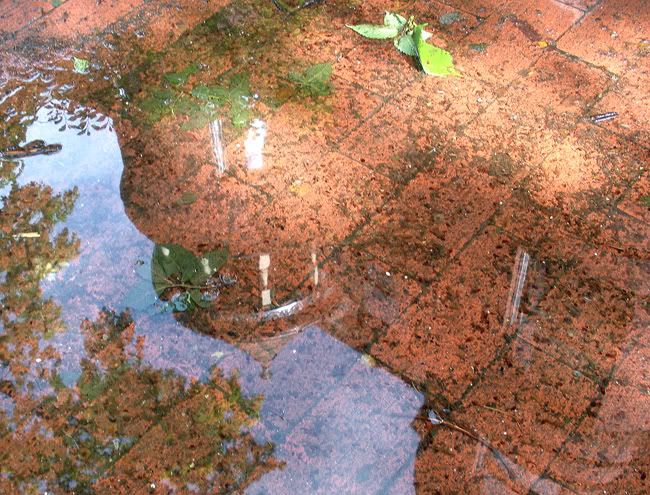 DISCLAIMER: I try mostly these days to keep my shamanic activities off the blog, because really my spiritual path, in this time and place, is so weird. I apologize, in advance, for giving any of you the willies. Sometimes I try to think of what I do as performance art, though the Sufi acupuncturist has told me it's disrespectful to diminish my spiritual path, no matter how far out of the mainstream it may be. The bottom line is, my shamanism doesn't hurt anyone or anything. I don't think others should (or even could) follow the same path since it's so idiosyncratic. Best of all, I maintain a sense of humor about it most of the time. I know, I perhaps do not always have both oars in the water. Oh well. --end disclaimer--
Here's how it happened. First, I became entranced with the sound of Huong Thanh's voice. I can't stop listening to her music. I used words like "haunting" and "eerie" to describe it. I even said "It's like the ancestors are talking to me." (See sidebar for my exact words.)
A couple of days after, when I sat down to post to the blog - that was yesterday - out came a few paragraphs about ghosts. Even as I was writing, I was thinking, "This is weird. Why am I writing about ghosts in May?" A couple of hours after I posted, I remembered Memorial Day is just around the corner, a holiday that celebrates dead soldiers. The dots were beginning to connect, but I still didn't get it.
At the very moment I began to wonder why they chose the end of May to celebrate the Dead (shouldn't Memorial Day coincide with late fall?), about a hundred motorcycles sped past my window. There were so many of them it was impossible to ignore. I thought,
Hey, it's too early for Rolling Thunder.
(Rolling Thunder is an event put together by Vietnam Vets in celebration of Memorial Day. They parade all over DC on their Harleys and then gather at Maya Lin's incredible, powerful, heart wrenching
Vietnam Memorial.
Indeed it is too early for Rolling Thunder, and as I love to say, you can't plan for the timing of all those motorcycles rumbling past just as I was thinking about dead soldiers and Memorial Day.
Finally it all came together in a narrative that my consciousness could understand. The Vietnamese ancestors ARE speaking, whispering, gathering. I can "hear" the whispers because it's what I do, and because I've practiced listening to the subtle energies for so many years. I believe the ghosts of the Dead from the Vietnam War are stirring a lot more than usual. I could feel it but my mind was unable to articulate what I was experiencing until yesterday when, looking at my blog, I noticed the juxtaposition of the sidebar with the post, and remembered the motorcycles. Finally the pieces fell into place.
And so you see this is how I "decide" to go on shamanic assignment. Clearly it is not a rational process, but then mysticism by its very nature is never rational is it?
I'm looking forward to visiting the Vietnam Memorial tomorrow or Wednesday. I'll take my rattle, listen to my theme song on my ipod or in my head where it is running like a tape loop. I will open my mind and heart to the energies there, probably dance around a little bit. Who knows?
Now, finally I am conscious that Something Is Happening, that I'm being called to dance in shamanic alignment with whatever that Something is. I am a shaman, for whatever that means, but my goodness sometimes I am so dense when I'm being called.
My mind is always the last to know.