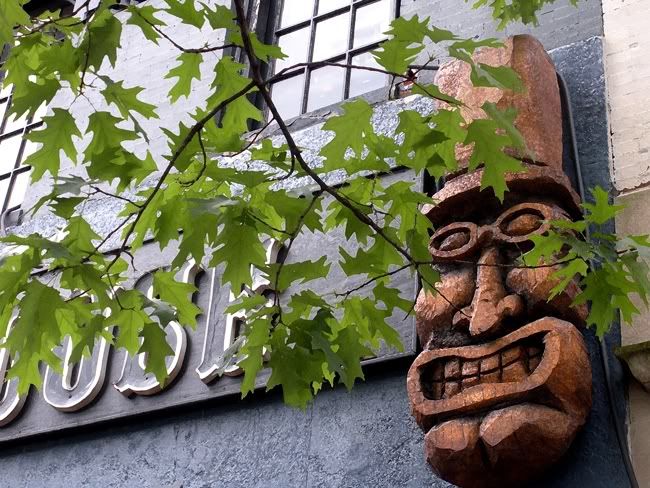 The Pourhouse Bar, on Pennsylvania SE at 3rd, has - for unknown reasons - two scary masks glued to the front of the building. Actually they're kind of adorable, at least this one, isn't it?
I agree with Dr. Antonio D'Amasio and other scientists who are interested in the neurology of emotion, that all emotions, even the so-called "negative" emotions, serve us well and should be treated with respect.
Fear, for instance, an emotion that is reviled in our culture (maybe because American society is based on the pursuit of happiness?) is a part of our survival instinct. As Dr. D'Amasio explains it, emotion is the result of changes in our body chemistry that prepare us to most effectively meet the external world. Fear enables us to run away from danger, or turn and face danger with a lot of extra energy (also known as courage). Without fear, we are unable to intuit danger and then decide how to deal with it. Fear is good!
He says that by the time we become conscious of emotions, they are already well underway. At the point that we know we're afraid (for instance), we can acknowledge it and then make decisions about what to do next, or we can repress the feeling, something we are encouraged to do in American society. He says we are only able to partially disguise the facial expressions that accompany emotion. We might be in denial, but the emotion is there.
Super heroes use fear in such an admirable way. It's like an emotional martial art for them, the way they acknowledge it and use the information in order to triumph. I love Indiana Jones in the first movie, using his fear of snakes to get himself and his girlfriend out of that Egyptian tomb.
The problem with fear (or any "negative" or "positive" emotion) is when we get addicted to it, or so accustomed to the feeling that we can't access other emotional states. The ideal behavior is to acknowledge fear, make decisions on what to do next, and then LET GO. That's the hard part, at least for me.
I could go on and on, for instance I could speak of anxiety (excitement without breath, as one of my great teachers used to say) or anger (a piercing energy that reveals the truth, but will "burn" you if you don't let it go, as Pema Chodron says). I could talk about people who say they're "always happy" and how bizarre that is to me.
I'll spare you the long lecture.
Yadda yadda yadda.
For heaven's sake, I am so officious sometimes.