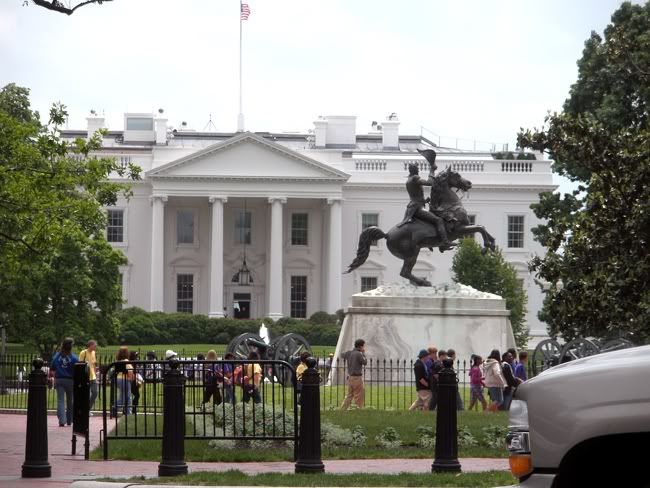 The White House, May 14, 2009
Summer is in full swing at last. The air is thick with humidity, and all the trees are in full leaf unless they are dead. The only remnants of early spring flowers are the folded brown packets that were once daffodils and tulips. Even the irises (they usually hang around longer than other delicate spring flowers) are looking a little tired.
There are many flowers in bloom which is why it feels so nice and fresh and clean outside. Blooming flowers, as I experience them, are potent energy filters. Something about all their tender petals, gathered together in beautiful shapes, pulls in sour energy, cleans it, then radiates pure happiness and beauty. That's why we take flowers to people who are in the hospital, why we use them at funerals and weddings. They're pretty - oh my yes! - but they're also quite functional, at least I think so.
Because roses are the best energy filters in the flower kingdom (according to the cosmology of Reya) I'm thinking that my next steps at the Vietnam Memorial will include leaving roses at the wall, as many as I can pinch without being rude during tomorrow morning's walk with Jake.
My plan is to gather only the sweetest smelling roses, and since they're going to be placed at the Vietnam Memorial, I'm thinking I'll only collect those that have passed their peak. Seems fitting.
I'm also going to channel Reiki directly into the wall. Ordinarily I don't touch the black granite; in fact I don't believe I've ever touched it, but whatever it is that's happening there could be supported with life force energy, so I'm going to suck it up, be brave, scatter roses and put lots of Reiki into the memorial. No doubt there will be more shamanic twirling, and I've promised Tessa of the blog Aerial Armadillo that I'll leave the ipod at home, listen for birdsong and other sounds.
After the shamanics at the wall, I'm going to go see Star Trek. Not the worst way to spend a Saturday, is it?