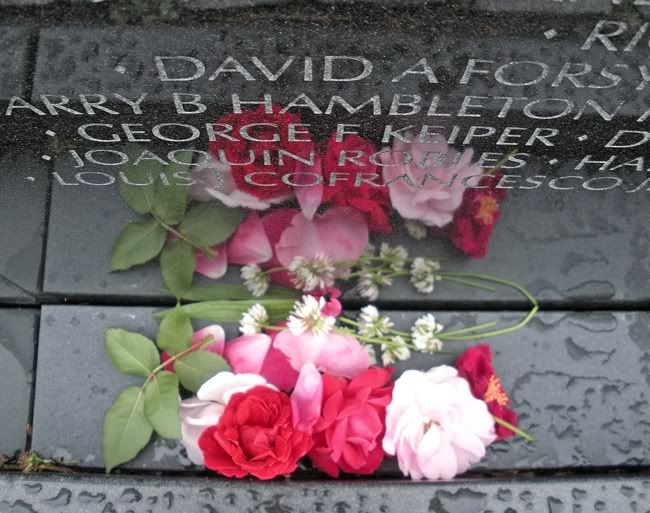 How many American soldiers
Died in this land?
How many Vietnamese
Lie buried under trees and grass?
Now the wineglass joins friends in peace.
The old men lift their glasses.
Tears run down their cheeks.

--Written by Van Le, former Vietcong guerrilla, for American journalist Morley Safer
January 1989, Ho Chi Minh City
I wasn't the only person who took roses to Maya Lin's wall today. I was not the only one touching the wall, eyes closed. I wasn't the only person in a contemplative state.
In fact I have never felt so at ease, or nearly as welcome, as I did today at the Vietnam Memorial. The holiday to remember the veterans is next week, so people are leaving flowers, notes, and tributes at the wall. The energy is heightened. As opposed to other memorials where this kind of emotional outpouring is discouraged, at the Vietnam Memorial, ritualized grieving is actually appropriate. The feeling there today reminded me of the AIDS quilt. It was so moving!
A man tapped me on the shoulder while I was putting Reiki into the black granite. It startled me, but his face was so kind. He asked if I wanted to have my picture taken. Afterwards I said thank you and he said, "You're welcome. Bless you." Bless me? That has never happened to me in the midst of what I like to call my shamanica. Usually when I'm focused on the energy I'm regarded suspiciously, but not today.
So Hammer, yes, I believe the wall actually does want me there, indeed it does! As I was leaving I saw a group of girls taking pictures of one of the rose tableaus I had carefully arranged. Wow.
Lots of people were making rubbings of the names of their beloved dead, assisted and encouraged by the guys who tend the wall. Anyone who wants me to make an impression of the name of dear ones, let me know. I'll be going back again soon, and would be honored to do this.
A year ago I would never have guessed that I would become so interested in this terrible piece of American history. My imagination is clearly not up to the task of envisioning my really interesting life, is it? Go figure.
Peace.