The White House, yesterday.
Part of typical
Homo sapiens
behavior, (because we are social predators), is to follow our Alpha pack leader. And so we do - most of us anyway. We follow or we challenge, just like all social predator species. By following, in this culture at least, what I mean is we dance in shamanic alignment with the way our Alpha
thinks.
It's so interesting to observe.
That's why I'm glad - and relieved - that Barack Obama is our president. Except for those who challenge him (and challenging is an important part of our pack behavior, so I'm not knocking it!) it seems that as a nation, we have become a lot more analytical since January 20th. We are looking carefully at things like financial institutions, we are beginning to "get" all the reasons why diplomacy is better than military might, we are opening our eyes to very difficult issues such as our recent history of torture. We are turning around on various topics like gay marriage.
Well done, America!
Under Bush, it seemed like we were zoned out, disconnected, oblivious, as if we had collectively choked on a pretzel and passed out on the floor of the Oval Office. Of course there's still plenty of that, of course. But, I overhear so much more thoughtful discourse in restaurants, for instance. I hear reporters asking smarter questions at news conferences, people seem (to my eye at least) more awake.
President Obama is not perfect. I have a few minor quarrels with his policies, but - whoa! - I am so happy to have him as my Alpha. God bless America!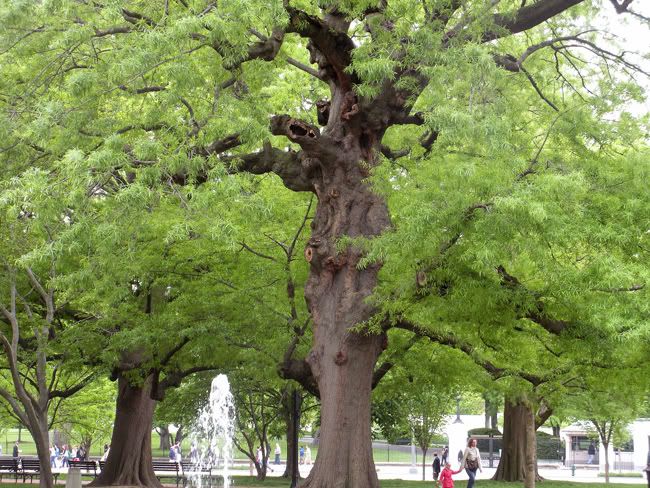 Remember the gnarly tree in Lafayette Square that I photographed in March? This is what it looked like yesterday! Life springs eternal, even from the gnarliest trunk. Yeah!