I don't know anyone who would say that war is ever "good," though there are plenty who think certain wars are "just" or "necessary," or some other word like that. I'm not completely convinced that it's ever worth its horrors. Maybe, who knows? You tell me.
What I do know is that we humans are war-like. We're not the only aggressive species on earth, though our opposable thumbs make possible some truly hideous creations - sophisticated and deadly weapons, for instance. As bad as the shooting and killing (at least in my imagination) is the habit of imprisoning people we see as a threat, whether they are enemy soldiers, Jews, Japanese-Americans, or alleged members of Al-Quaeda. Criminal imprisonment is bad enough, but what we do to prisoners of war is beyond my comprehension.
The stories of the POW's taken during the Vietnam War are particularly awful. There's still a huge government searchable database for families and beloveds of the American soldiers who disappeared without a trace, at least 45 years ago, into the camps in N. Vietnam. After all this time, the MIA's are
still
lost; people are trying to track them down. The prisoners who came back from that experience were never the same - I'm thinking right now about ex presidential candidate John McCain. Because of the torture he endured, he can't raise his hands above waist-level. Unimaginable.
I'm puzzled by the quotation marks on this sign. Are they trying to convey that staying on the sidewalk isn't "really" honoring those who served but is just a rule they want to guilt you into obeying? Someone please explain?
I came of age during the time of the huge American protests against the Vietnam war, so I remember a lot about it. I remember a friend's older brother who served twice. The first time he went because he was drafted. The second time he went voluntarily because the drugs were so good over there. Within a year after he came back from his second tour of duty, he committed suicide. His story, sadly, is typical. People of my age can tell you countless stories about the sickness of that war. It left us so heartsick, it really did.
In general I have avoided the Vietnam Memorial here in DC, probably because of my memories from the 60's. It's a beautiful sculpture: elegant, powerful, wrenching. That memorial does everything a war memorial "should" do. But every time I visited it (in the past), I always felt like I was being boiled, even in the dead of winter. It felt toxic, harmful, viciously haunted, so I stayed away for the most part.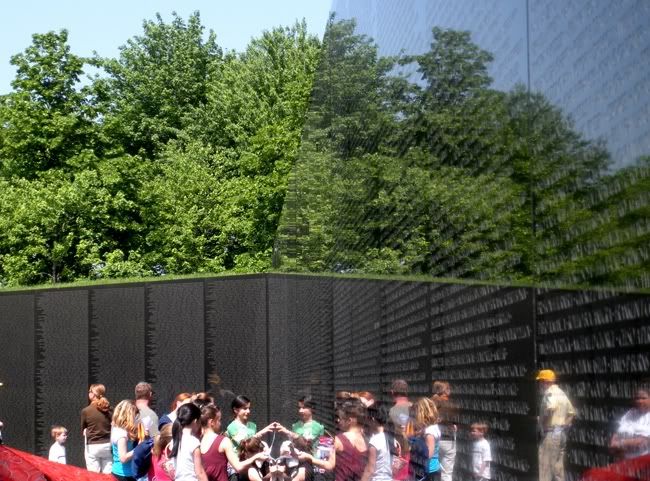 Yesterday I spent about an hour there, walking back and forth, listening to music on my ipod (mostly so as to avoid overhearing tourist talk - no offense to tourists but those conversations never enhance my experience), dancing around as I do when I'm trying to understand the energy of a place. I've never lingered so long at Maya Lin's wall.
I don't quite have the right language to describe what was happening there yesterday but I can say for certain that it was different than anything I've felt in the past. The walls of the memorial, so shiny and unusually reflective, seemed somehow porous, more like mesh screens than solid rock. Watching people touch the black granite, I half expected to see their hands go right through to another dimension.
Maybe it was the joyousness of the inaugural concert (it took place at that end of the National Mall) that shifted the energy. I felt even that day that the music was bringing a powerful healing to all those awful memorials down there (the Korean War, Vietnam War and the Lincoln).
Yesterday it felt like an exchange was taking place, a soul swap of some kind. The thought in my mind while I danced (mindful that the Park Police were keeping a close eye on my shamanic twirling) was that souls of soldiers from both sides of the conflict have been stuck, like POW's, in a hideous post-life limbo, a prison camp for the dead. Yesterday I sensed that those stuck souls were finally crossing back and forth through the mesh screens of black granite and etched names, guided by Vietnamese ancestors. It felt distinctly like those souls were finally going home.
Could it be true that the stuckness of the Vietnam War is coming unstuck at last? I'm just guessing of course. I wonder, am I the only person feeling this? If so no doubt what I'm experiencing is something in me that's coming unstuck. Felt bigger than that, though. Who knows? Below is a "walking tour" of the memorial. Take a stroll through, will you, and tell me what you feel? Thanks.
"I saw the Vietnam Veterans Memorial not as an object placed into the earth but as a cut in the earth that has then been polished, like a geode." --Maya Lin