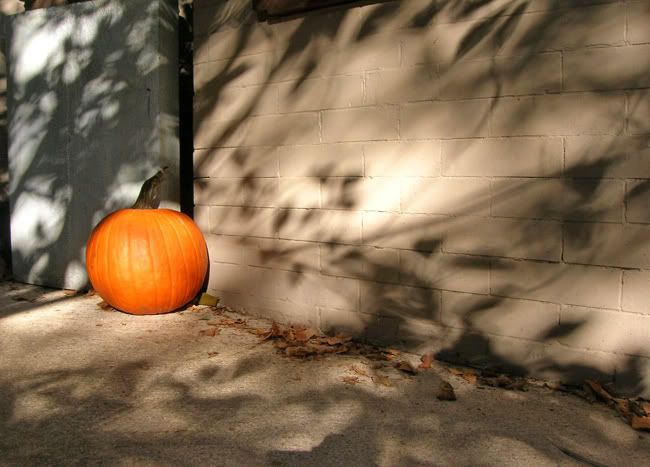 The doc listened intently to my lungs today while I took so many deep breaths, I got a little bit dizzy. Her diagnosis? "Your lungs are perfect." What a relief! I've felt completely healthy for about a week, but was still nervous while I waited for this morning's exam.
What if?
I asked myself over and over again, sitting in the reception area, pretending to read my book. You never know.
On the walk home I was almost skipping with happiness. The day was resplendent, overflowing with ample gold sunshine, interesting cloud formations, finch and cardinal song and fluttering leaves. The day was, as always, a perfect reflection of my inner state of being.
The Dead were pressing close to me as I walked home. It's their time of year, which makes them especially vivid. I try not to get annoyed with all their moaning, chain rattling and dragging of limbs, try not to stare at their grey, hollow faces too much. I try to make room for them. But this morning they were really in my face, probably because I was feeling so fine.
Most ghosts don't remember coughing, congestion, earaches, sore throats, or upset stomachs. They can't recall how a broken bone or sprained ankle feels, nor do they have even the vaguest memory of chills, fever, headaches, toothaches, or other awful sensations like real hunger, real thirst. All they seem to remember about life is the sensual pleasure of it all. They yearn to taste something delicious, have sex, stop and smell the roses - literally. In fact, ghosts are stuck in a romanticized fantasy of what life is, or what life was for them, oblivious of the fact that they could move on, any time they want to, to a place of healing and renewal, not to mention reunion with their own beloveds.
It reminds me of the way we living humans romanticize our ideas of a perfect life in which we would be rich, famous, thin, gorgeous, brilliant, perfectly safe or secure, confident, happily married or whatever. It seems a human trait, whether living or dead, to long for perfection.
As much as they were bugging me this morning, I can't blame the Dead for wanting to experience again the intensity of the five senses. Being alive - especially when healthy! -
is
a precious existence, particularly on a glorious fall day like today. It won't last forever, so don't take it for granted, OK? A toast to life! Cheers!