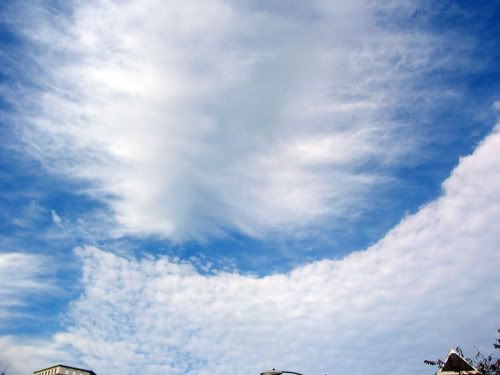 Do you pray? I do, every day. Sometimes my prayers are nice and neat, following a graceful curving trajectory of devotion. Some days my prayers lurch forwards like a car with a bad transmission. Some days - like yesterday - they are just all over the map, chaotic and perhaps even incomprehensible, yet sincere. I'm always sincere when I pray, which, according to Rabbi Manewith, is the only thing you really need in order to communicate with God.
Yesterday's sky was a perfect reflection of the haphazard melange of my prayers. On the way to work I noticed that the clouds had formed an oval bowl over Capitol Hill (see pic above). The bowl was filled with wispy clouds, like steam rising from soup. Very weird. I've never seen cloud configurations like this and wonder what kind of celestial energy could cause it. It looked to me like the soup lifestyle, also kind of like the "empty bowl" I try to be when I meditate. Except it wasn't empty. Hm.
Later in the day the sky went completely crazy. It was as if every kind of cloud formed all at once, layered one on top of the next. There was no rhyme nor reason to that sky, just like my prayers.
Please let the rains come to southeast Africa, as soon as possible, OK?
Please help my clients with cancer find the right drug cocktails so they can tolerate chemotherapy.
I can't find my favorite healing crystal. You know the one. Will you help me locate it?Can you PLEASE teach me how to be as calm as Barack Obama?
There were more prayers of request, but I will spare you the whole list.
No doubt yesterday's cloud formations were also reflective of the chaos and confusion we're enduring here leading up to the presidential election, and with the financial markets bouncing up and down like yo-yo's. Talk about no rhyme nor reason. Looking up at the crazy sky, I thought,
Beautiful!
But I also thought
Uh-oh. Disturbing!
What next?