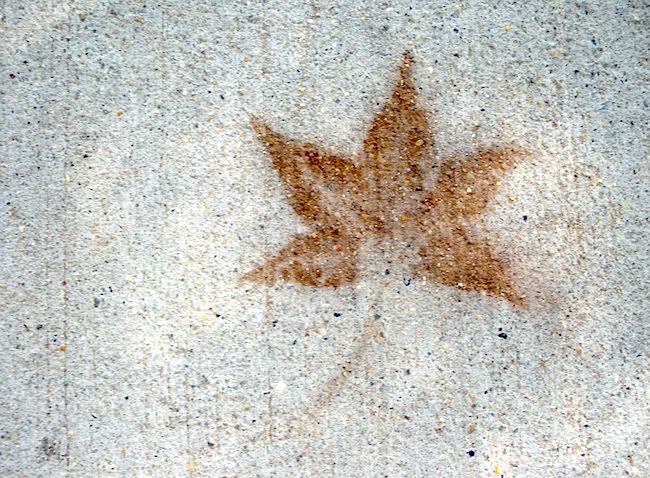 Love this dainty leaf ghost.
Plutarch, Sir Walter Scott, Emerson, Ovid, Shakespeare ... a whole bunch of folks have had something to say about valour. Here's a quote that resonates: "Valour is stability, not of legs and arms, but of courage and the soul." -Michel de Montaigne.
I also like this one: "True valor lies between cowardice and rashness." --Miguel de Cervantes.
Cool.
Carl Sandburg believed that valour is a gift, that you can never know if you're up to the task until the crisis is at hand, and once practiced, you can never know if you'll be able to access it a second time. That's interesting, too.
It's coming to me that valour is one of the great ideals, that its manifestation is rare and precious. Valour is well worth thinking about, striving towards, yes. But expectations around having access to valour at all times is probably more about hubris than reality. We humans can imagine perfection; it's a blessing and a curse, isn't it? Once imagined, we yearn for the perfections. Perfect valour, perfect love and perfect trust (as we used to say in Reclaiming). We yearn for Pythagorean perfections of all stripes. We
homo sapiens
are so ambitious!
For this morning at least, I'm assigning valour to the same constellation of idealized human qualities as true forgiveness, unconditional love, and unflinching compassion. The ideal qualities have always seemed, to me at least, like gifts, divinely bestowed. Or, depending on the structure of your personal cosmology, you could say that these ideal qualities are forces of nature over which we have no control.
Of course we humans have to do our bit, we have to work towards the ideals, oh yeah. We must practice compassion, we must release grudges, resentments and judgments whenever we can. We really have to learn how to open our minds and hearts, try to learn (every single day) something we
don't
already know. These practices put us in a better space to receive the divine gift, but there are no guarantees that no matter how hard we try, we will succeed in these endeavors. Nope. At least that's how it seems according to the cosmology of Reya.
My goals for today do not include achievement of perfect valour. I think I'll cut myself some slack and instead, set more modest goals: a nice bike ride, cooking something good for dinner, cleaning the chateau. Today I will talk to people I love, read wonder tales and blogs, breathe and pray, drink a lot of water.
Valour is a pretty hefty goal, eh? My plans for today seem a lot more right-sized. Yes? I say yes.
Salaam and Shalom, y'all. Onwards & upwards.