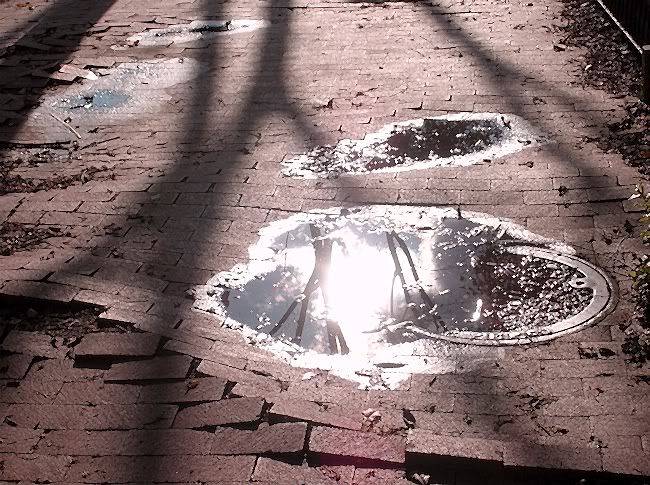 I don't believe it, of course. I just thought it would be a funny post title. The God I know about doesn't have a mean bone in his/her body. Nor does God have bones or a body, or a personality for that matter.
There are times when I yearn to be bodyless, like right now, for instance. A terrible summer cold came over me all of a sudden yesterday, and has gotten worse overnight (that's why I'm not sleeping - when I lie down I can't breathe). Besides being uncomfortable, the cold is grounding me in DC, spoiling my plans for a mountain/river getaway. There will be no escape up to the cabin this week after all. I'm experiencing a failure to launch.
Some people would try their best to ignore the symptoms. They would go anyway, maybe after swallowing a fistful of decongestants, some Advil, etc. That kind of behavior makes no sense to me at all. What is the point of
pretending
to have fun? I want to
actually
have fun, something that's not possible when I'm sick.
Timing is everything and the body never lies. Indeed this cold is a beautiful (in a way) metaphor for my current spiritual state: my heart and lungs are heavy as the result of a recent separation from a dear one. My sore throat reflects the shutdown in communication, my stuffy sinuses mimic the aftermath of a good cry. I've been trying to be so brave, valiant, strong, etc. about this recent turn of events, but my body knows better. And so I sniffle. When I wrote the series of posts about valour, Linda Sue (at least) suggested I go ahead, rant and rave, misbehave. Oh man. Linda Sue: you were absolutely correct. I stuffed my reaction and now look at me.
Or maybe this cold is just random. Who knows?
What I do know is that I'll be watching streaming movies from netflix this week, eating chicken soup instead of hanging out at the cabin in W. Virginia. Maybe I'll be able to reschedule my escape for sometime in September. If I work it out, please remind me to go ahead and pitch a fit if I'm feeling moody BEFORE it's time to get out of town, OK? OK.
Under "Marine Wife" it says, "Toughest job in the corps."