Halfway down the steep path that leads from the house to the river. Walking down it is like a freefall.
Everything at Tanglewood pitches forward towards the river - including me, should say. Only the trees stand at a true vertical, and the house itself, thank God. At Whitings Neck, the Potomac is so serpent-like, looping and switching back and forth. I read somewhere once upon a time that a meandering river is an old river.
Water is so powerful, and so very patient. It kept rushing past the limestone, rushing, running, flooding, receding, flowing, year in and year out, century after century after aeon, until it wore away the rock, creating the steep cliffs on the W. Virginia side of Whitings Neck.
Water vs. rock? If you give the water time, it will always triumph. The river vs. Reya? When I'm there, I want to sommersault into the water, sink to the bottom, or perhaps be carried along on the current down to the Chesapeake Bay. It's very seductive.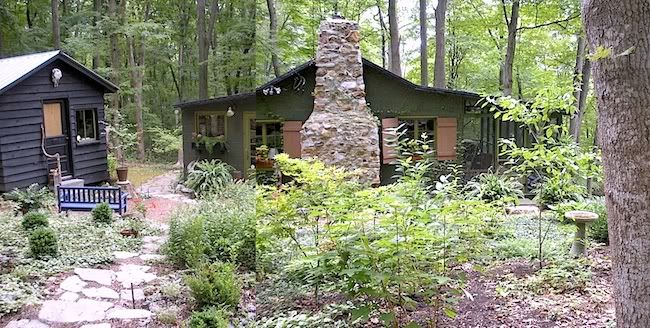 The cabin at Tanglewood. The shed on the left is Rod's studio.
When I stay at Tanglewood, after a day or two I begin to biodegrade. Rod, one of the men who currently holds the deed on Tanglewood, calls it "going feral." When I go to the beach, I usually decide to forego my urban habit of wearing wear make-up. When I go to Tanglewood, I don't even THINK about make-up. After a few days there I can't remember what I look like in make-up. I forego all my usual standards of appearance in order to dance in shamanic alignment with the wildness of that place. It's not a conscious act. Wow.
In the evenings, after a day of slowly tumbling (energetically) into the river, being worn away by the power of the Potomac, biodegrading in the hammock under the trees, I take a nice shower (outdoor showers are SO COOL), wash my hands and face, and enter the absolutely beautiful civilization of the indoors. Rod and Tom have made Tanglewood inviting, cozy, and beautiful. It is a nest for humans, it really is.
It's a restorative, humanizing, healing dynamic - honoring the wild by day, then moving with gratitude into the comforts of home and friendship by night. What a great vacation!
From the terrace. Those trees on the other side of the Potomac? They're in Maryland.