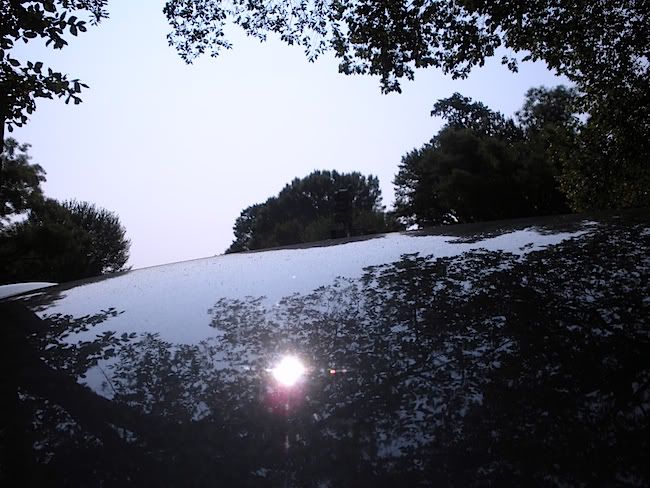 One of the most important cultural imperatives, here in the District, has to do with getting the hell outta town in August. Ask any of us; we all know how important it is.
Even though in August everything is slow, Congress is in recess and nothing much happens, getting out takes
umphhh
. DC has an energy, an internal vortex, centered in the Capitol rotunda,
contained by the boundary stones
laid by our founding brothers a couple of centuries ago, that makes escape almost impossible - or at least undesirable.
Some will disagree with me; indeed people travel in and out of the District all the time. But I'll argue that even those who live in the suburbs of Maryland and Virginia, and who come and go every day from the District, have to pass through the energetic barrier. I believe that's why people drive like maniacs here. They have to get angry, they have to step on the gas with a vengeance in order to make it through the diamond-shaped wall of energy. Once inside the District, the energy of the vortex comes into play. Many people immediately get turned around; they are driving towards Maryland but believe they're headed for the other side of town. Maybe that phenomena isn't as pronounced now, due to GPS systems. I'm not sure.
I have a whole other theory about those who take the subway in and out of the city. Subterranean DC is extensive - you wouldn't believe how much stuff is down there. Subterranean DC is a different realm from the city above ground; the energy is very different down there. I could get into it, but I will spare you the details.
My point is: this city has a crazy, intense, compelling energy that makes us clench our jaws, drink too much liquor, too much coffee, think way way way too hard, work too much. In August, one way or another, we HAVE to get out of town for awhile.
My moment of escape is at hand - almost. Monday night I will head west, up into the mountains of West Virginia to spend a few days at a friend's cabin.
Last year I escaped the District early - at the end of July. This year I've waited until the last minute. I am so ready to let my jaw relax, sleep through the night, breathe easy, put my feet up, listen to the song of the woodthrush and the music of the Potomac River. Three more sleeps and I'm outta here. Yay!!!