Two buzzards doing their wobbly circle flight-dance above the Potomac.
For a long time I've held a grudge against Thomas Jefferson for that "pursuit of happiness" idea he inserted into the Declaration of Independence. I love all the ideas about independence, liberty and so forth, but happiness? I've believed for a long time that chasing after happiness is like forever running after a carrot that is so close, and yet so far away. My own life's experiences of happiness have always been fleeting. I've preferred to pursue states of being that are perhaps slightly longer-lasting, such as satisfaction with work well done, the contentment of a lazy afternoon reading the New York Times, or the pleasure of climbing into bed when the sheets are crisp and freshly laundered.
One recent publishing trend has centered around books about happiness. (Jonathan Haidt's
The Happiness Hypothesis
, Darrin McMahon's
Happiness: A History
, Daniel Gilbert's
Stumbling on Happiness
, for instance.) You should have seen my eyes roll around when I saw the book titles. I can be such a cynic sometimes, for heaven's sake.
Just yesterday, though, I started reading the Dalai Lama's book,
The Art of Happiness
which is really giving me pause for thought. Honestly there's nothing I love more than learning something I don't already know, or when an entrenched thought form gets uprooted. I love finding out I've been totally wrong about something. It's such a revelation!
The thing is, I trust the Dalai Lama. If he says it's a human birthright - the pursuit of happiness - then, well, maybe I'm going to have to apologize to old Thomas Jefferson. Maybe Thom was on to something after all. Because the Dalai Lama, in spite of everything, seems like a pretty happy guy. He seems lighthearted, good humored. This is exactly what I'm aiming for as I head into my "golden years." I might have to revise all my assumptions about this.
The pursuit of happiness ... Hmmmm ....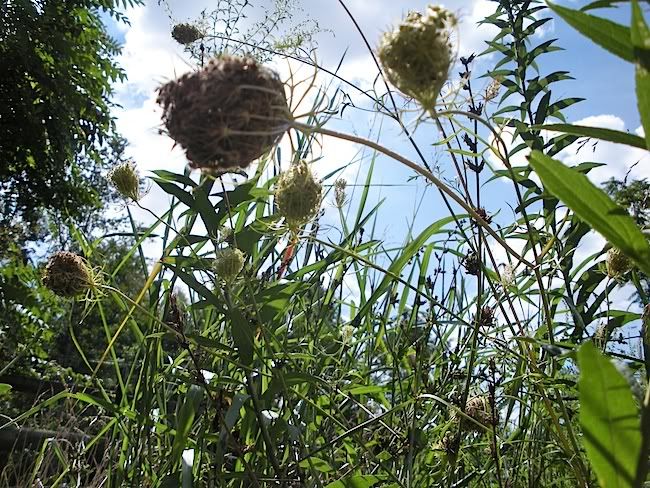 Very cool looking thistles, aren't they? Prickly little dudes, but cool looking.