Yesterday marked three years since Jake died. I can honestly say I only thought of him sporadically. I believe this is a good thing, a symptom of healing. People told me shortly after he died that it takes three years to recover from the death of a beloved pet. I heard it from several people; it's interesting to understand there's a tried and true interval - though - I'm sure the three year rule doesn't work for everyone. It was spot on for me.
For three years I have focused carefully on remembering what was not good about Jake: his fear aggression, his frequent maladies and his tendency to chew through super kongs, cow femurs, woodwork ... whatever. I think I was protecting myself by remembering what was hardest about him, shielding myself with these difficult memories from the pain of my grief.
But the three year interval has passed. Suddenly I'm able to remember how sweet he was, how dedicated he was to me as well as to anyone I cared about. Even if he had never met them before, he would enthusiastically welcome anyone into his zone as long as he felt my love for them. Should I be surprised to remember how psychic he was? I should not.
He had his favorites, of course, among them a friend named Dennis with whom he was madly in love. When Dennis left the house after a visit, Jake would sigh mournfully, turn around in circles for awhile, then collapse into his bed, bereft.
Ha. My dog was as much of a drama queen as I am.
What a sweet, intense, beautiful being he was. It's wonderful to remember what was good and noble about my dog, rather than everything that was awful. This is the path of healing for which I am extremely grateful.
Happy Sunday, y'all. Onwards and upwards. Shalom.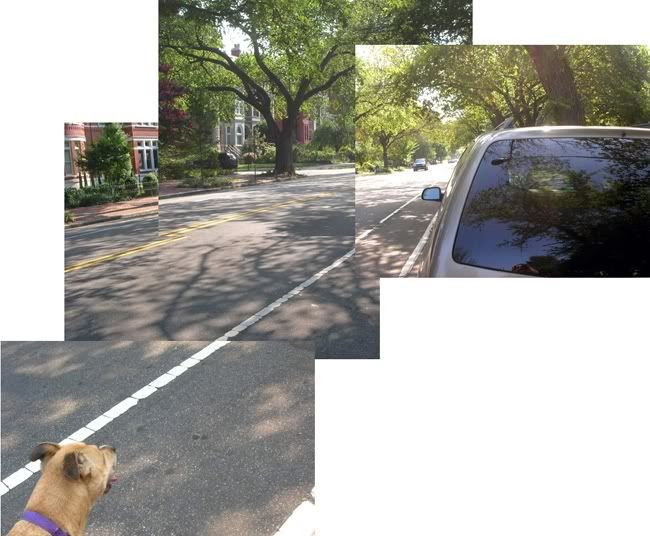 Jake, trotting down East Capitol Street, circa 2008.