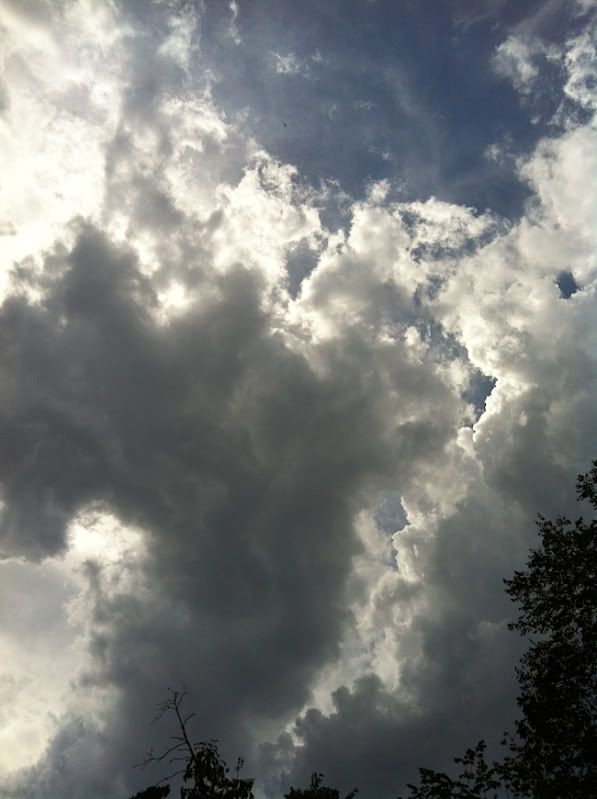 Feeling moody today? I certainly am. It's hot, Mercury is retrograde, and the dark moon, along with several other key planets, is creating a cardinal grand cross in the sky. Good lord. I suspect also that an aspect of this mood has to do with the ongoing wrestling match I'm engaged in with the idea of shalom, the perfect peace, the word engraved on my arm forever and ever, till death do us part. Integrating this mark on my arm is much more of a challenge than I could ever have imagined.
It has healed physically. The color is brighter, which is nice - woad blue, as a friend describes it. Woad blue shalom. Hmm. Is that an oxymoron or what?
I am lucky not to have any clients scheduled, hence I've been able to grump and whinge to the mirror, the four walls of the chateau, and to the cloud people and the birds outside my windows. Birds are almost always tremendously moody, at least they seem so to me. When I bitch at them, they cock their tiny heads and, I believe, flash me a knowing smile. Little dinosaurs! I am one with the moody birds today.
Nothing addresses a bad mood as perfectly as a cleaning frenzy, especially when it's 100 F. outside. My kitchen and bathroom are spotless, the floors have been vacuumed and mopped to within an inch of their lives. The last load of laundry will go into the dryer forthwith, after which I'll switch on the dishwasher.
Cleaning the way I do is definitely a coping mechanism - but it works for me, and after I'm finished, the chateau sparkles. There's no harm in that, is there?
This evening I'll get out of the chateau to celebrate the 50th birthday of one of my nearest and dearests. I'm very much looking forward to it in spite of the heat, the grand cross, and my hellacious mood.
It's just one day in my long life, just one single day. This, too, shall pass, and when it does, I'll laugh at myself. I always do.
Shalom.