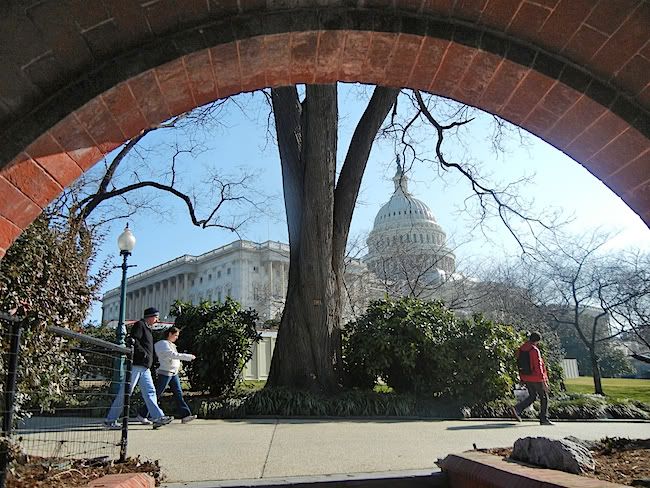 From inside the summerhouse on the Capitol grounds.
What a gentle "winter" we're having in DC. I can remember a time when I would find nice, warm 50 F. days in late January upsetting. For the life of me I can't remember why, because it's wonderful to be outside on a day like yesterday, walking around without gloves, a scarf, a hat, earmuffs, heavy coat, etc. Maybe for real I'm becoming a southerner! Is that possible?
May I name a very politically incorrect personal truth? Here goes: I don't enjoy sharing the streets with people on bicycles any more than the people driving cars. Some bike riders are calm, but a great many of them are just as likely to get all worked up about the flow of traffic as the people driving cars. They are far more likely to run red lights, weave in and out of cars and people, swear audibly and act crazy because a pedestrian (that would be me, for instance) DARES to walk and stroll, looking at the sky and taking pictures. No one in a car whips by me while I'm on a sidewalk, but bike riders do so all the time. No bell, no warning, no "on your left." Sometimes they come within an inch or two. It's as if they're entertaining the thought of running me down. It is unnerving.
It's better for the environment, but really what is up with people who ride bikes?
This morning the birds are singing and the squirrels are dashing around, hither and yon. It's going to rain today, but again the temps will climb into the 50s. After work, I'll be able to get out for at least a quick walk around Lincoln Park. I'll stay on the brick sidewalks where I stand the best chance of avoiding cyclists.
All is well. Shalom.
The green world is trying its best to go with the flow of this non-winter.