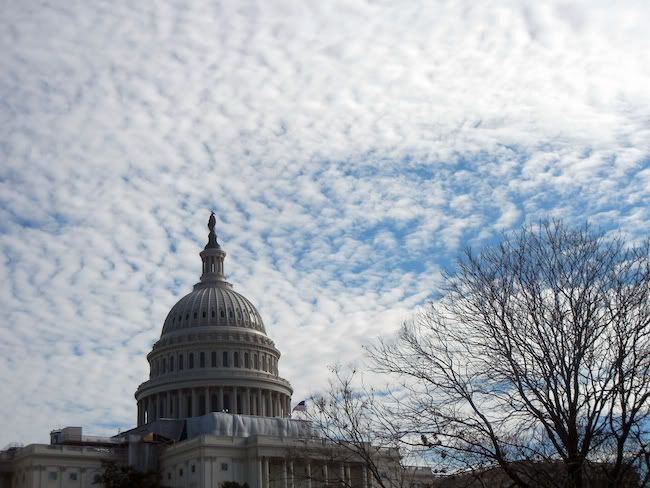 I don't have money or real estate, a car, savings (to speak of) or a retirement account sitting in a bank somewhere. Nevertheless, I am rich in friendships and sisterships and brotherships, first and foremost. I'm stinkin' rich in professional satisfaction - I love my work! I'm also rich in history and experience here at the end of the decade of my 50s.
The blue skies and warm temperatures this winter in DC, though decidedly weird, have made my walks a pure, rich pleasure of comfort and beauty. Hence I've been out there more often than I usually am during winter, collecting images of rich beauty, like the ongoing series of portraits of my buddy the Capitol dome, richly adorned by clouds.
A friend and I walked down to the American Art Museum Saturday to see the
Annie Leibovitz "Pilgrimage"
show. It's incredible - no people in these pics! Beautiful. I will definitely return to see it a few more times. One thing I love about Smithsonian museums is that they're free, enhancing the richness of experience since I can pop in and out as often as I like.
Many of the riches that are part of my life are available without ever leaving the chateau. Yesterday I listened to
Krista Tippett's interview with John O'Donohue
three times. Beautiful!
I'm off in a little while to buy groceries at Whole Foods, a temple of foods. Every time I walk into the produce department I think of that famous story about Khruschev when he visited a grocery store during a visit to the U.S. in 1957. They say he teared up, seeing all that fresh food.
May I PLEASE never take for granted the riches of my life! May it be so. Happy Monday.