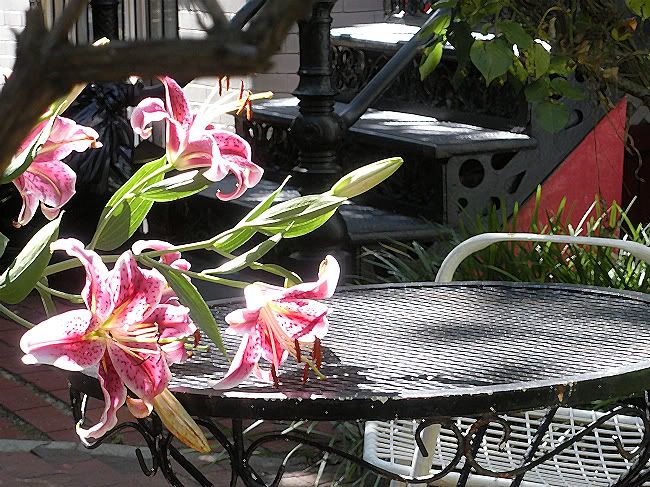 The Control of Nature is John McPhee's bestselling account of places in the world where people have been engaged in all-out battles with nature. In Louisiana, the U.S. Army Corps of Engineers has declared war on the lower Mississippi River, which threatens to follow a new route to the sea and cut off New Orleans and Baton Rouge from the rest of the United States. Icelanders confront flowing red lava in an attempt to save a crucial harbor. In Los Angeles, basins are built to catch devastating debris flows from the San Gabriel Mountains.
Yeah.
When we humans decide to "control" nature, that urge does not arise from encounters with butterflies or sweet spring days, nope. It's always about some virulent bacteria, natural disasters or vermin.
Here at the chateau, I'm about to engage in some serious battle with vermin. Oh yeah. I'm not talking about the cute little mice that we dealt with at the house on Tennessee Avenue. Nope, based on the size of the poo I found under my sink yesterday and this morning, it's one of the big ones, the rodent whose name must not be mentioned.
The thing about rats is: they're smart. They're really smart. When we had one at the house where I work, it
almost
got stuck in a sticky trap. It got away, and never came back. Hmmm .... same thing upstairs at the chateau. They set traps, caught nothing but the critter got the hell outta Dodge. Today during a break at work I'm going to buy a sticky trap, put it under the sink. I'm absolutely, cold bloodedly determined to triumph over the beast, though I'm asking myself,
if this dude gets stuck in the trap tonight, then what?
Because I sure don't want to see it, let alone touch it or in any other way deal with it. If it gets stuck, I will leave the house and not return until I find someone brave enough to face the monster, take it out and dispatch it in some way or another. My hope is that it will see the trap and vamoose. Can you hold that thought for me?
Last night it chewed the sponge I use to wash dishes, but spit out the pieces. I guess it didn't taste good. Sponge in garbage can. Counter thoroughly cleaned. Me saying EWWWWWW over and over again.
Oh yeah, some aspects of nature beg for control, they really do. I will not share the chateau with one of these guys. I will prevail. I will. Do you believe me?