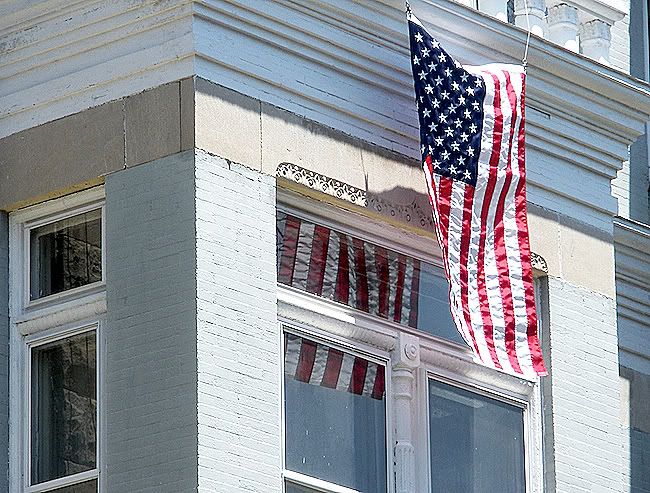 "It's easy to forget, especially around U.S. Independence Day, how much trial and error went into the creation of American democracy ... The warm and wise philosopher Jacob Needleman looked back at the American founders with this in mind for his book "The American Soul." He found that every iconic institution, every political value, had "inward work" of conscience behind it. Every hard-won right had a corresponding responsibility." ~~Krista Tippett, blogging about her 2003 interview with Mr. Needleman.
Her blog, and the interview itself, are truly worth spending a few minutes with today. Wow. Jacob Needleman is a great, humane thinker, which is one of the reasons I loved his book so much when I read it a few years ago. Jacob Needleman is NOT a cynic. It's so refreshing!
I try NOT to be cynical whenever possible. When I get cynical, sarcastic, I find that state of being so exhausting. I feel that my connection to the life force becomes thin and brittle, that my sense of gratitude and appreciation for the beauty of life shrivels up until I can't breathe. Oh god I really try to avoid getting into a state of cynicism. It does not help me in any way.
No matter about my resolve, there are times when I find myself choking and gasping for energy, for air. Sometimes it takes awhile to realize I've lapsed into the sharp, biting, stingy thought-form of cynicism.
This year, the Fourth of July is a tough day for me. Today it would be all too easy to tip over, face first, into cynicism, to characterize Americans as mindless buffoons because our traditions around this holiday include getting drunk, eating charred meat and setting off small bombs. In years past, that's exactly how I spent the day - grilling ribs, hanging out with the neighbors, drinking beer all day. This year, I'm out of that pattern, feeling at odds with everything at the moment. Dang, man.
Is it wrong to want to have some fun, blow off steam, in celebration? Nope, there's nothing wrong with that. Just because I had a bad week doesn't mean anyone else should be moping around today, yes? I say yes.
Jacob Needleman says that America has
always
been a mess, since the get-go, but that's no reason to hate America or Americans. OK. I agree completely. But being an American is complicated, it really is.
I'm going to the movies today. Tonight I'm not sure what I'm going to do. Later, when the rocket's red glare, the bombs bursting in air begins just a few blocks away on the National Mall, I'm going to try very hard to keep breathing, to exhale any tendency towards cynicism. Can I do it? YES I CAN. May it be so!