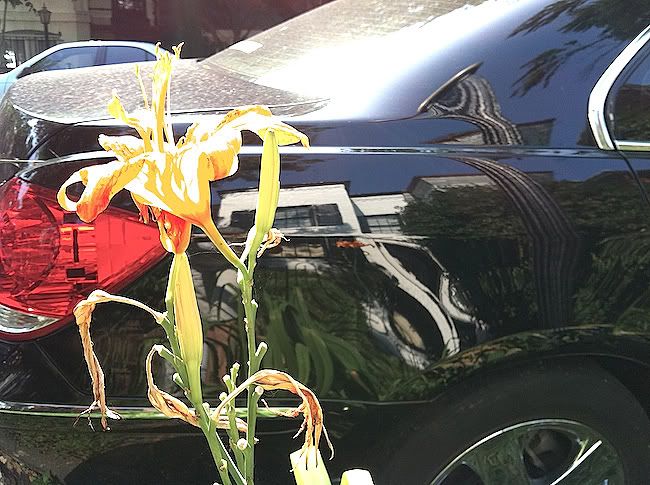 This pic was taken with the iphone camera, manipulated in photoshop. Very much more surreal than the pics taken with the Nikon, I think. What do you think?
I booked the Bolt bus ticket, also bought a ticket to the Metropolitan Museum this morning, which means that for sure I'm going to NYC in a couple of weeks. I have a smile on my face, oh yeah.
It's always good to have something to look forward to, and also it's very important to get out of DC during the summer. NYC is not the idyllic cabin by a placid lake scenario I'm always imagining for myself as a summer getaway, but it beats being poked in the eye by a sharp stick, yes? I say yes.
My plans for the 2 nights and most of three glorious days include the usual: walking around and taking pictures, sitting in various cafes, eavesdropping on conversations, taking in the energy and architecture and buzz of the big apple. In addition I will be staying with my wonderful blog friend
Elizabeth
, also catching up with my friend
Dave Scott
, someone I've known since 6th grade. If I am able to catch up with my artist friend Mary Proenza, it will prove to be a stellar vacay.
It's rather stupid that I don't go more often. I have wonderful friends I can stay with, the Bolt bus round-trip is $40 ... for heaven's sake, why do I wait so long between visits? I love New York! Who doesn't?? I mean really.
The Nikon takes softer surreal pics. Do you agree?