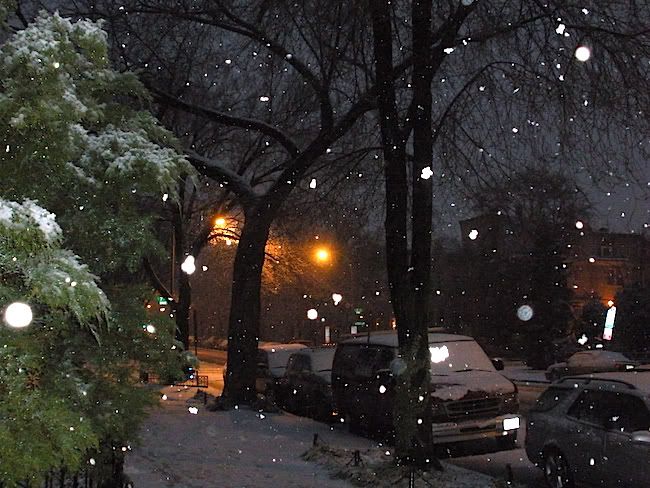 I love snow so much, but I must admit that last night's thundersnow, while beautiful and extremely dramatic, did not deliver the kind of snow I romanticize about. It's not light or fluffy, or slightly damp - containing just enough moisture to make snow sculpture a pleasure. No. This snow is a slushy, icy, heavy, yucky snow that snapped off tree branches, brought down power lines, and snarled traffic far more than some other kind of snow.
Counting my blessings: I don't own a car and I don't have to drive anywhere today. I live in a neighborhood with underground power lines, so I never lost power (400,000 + are without power this morning). Knowing that the snow was coming, I got to the supermarket on Tuesday, so I'm well stocked with whatever I might need (not that we're snowed in here on Capitol Hill, but still, it's nice not to have to run errands).
Yesterday afternoon I baked a nice little fruit-topped cake. Should anyone drop by for a cup of coffee, I'll be able to also provide them with a slice of cake. Yep, all is well at the chateau in the wake of the thundersnow, and I am grateful!