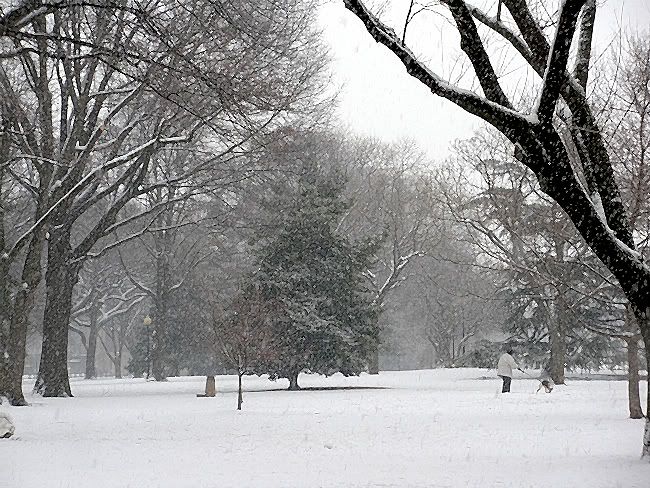 The idea of
space and time as parts of the same continuum
is not a revolutionary idea, it's not modern, which might be why it's not difficult for me to grasp. Do you struggle with it?
Here in the chateau, for instance, I do not have a lot of physical space, but because I live alone and don't work too much, I have plenty of time. Hence, my apartment feels very spacious.
I've worked extensively with (and written about) the geometry of time, spent many long hours cutting through the time-space of Washington DC, wondering, mapping (at least in my own mind) what it means to walk east while the sun heads towards the west, or, more interesting than that, contemplating the way in which traveling up into the mountains in spring actually takes me backwards in time, seasonally.
I wonder if the geometrically precise Masons who designed this city thought about these things. It's likely I'll never know for sure.
When I go to Poland later this year (I'm now saying "when" rather than "if") not only will I not be traveling all around Europe, I won't even be traveling all around Poland. I will fly into, and out of, Krakow. IF I take the 30 minute bus ride to Oswiecim, that journey will constitute the only moving around in space I will indulge in, because I will need spaciousness while I'm there, to sense the land/weather, connect with the vibration, do my shamanic thing. Time will be my spaciousness in Krakow.
Part of getting ready for the trip involves remembering that I don't have to get stuck in the Holocaust while I'm there. Krakow is a 1,000 year-old city. If I want to, I can travel back to medieval times when allegedly a dragon was slain and laid to rest beneath the castle. I will connect to
Shiva's chakra stone
and visit the salt mines. As well, I can return again and again to 2011. No doubt I'll also visit the era of the first half of the 20th century, but seen in the light of the vast history of that piece of land, the Holocaust was a moment. An important moment, but a moment.
One of the reasons I'm thinking about space-time this morning is because, although I had a lot to say yesterday, I realized that the Yizkor post needed spaciousness. It needed to rest here on the blog for awhile before being placed under the next post. That post needed space to breathe. It was nice to take a break from posting. And ... good to be back! Happy Sunday, y'all.