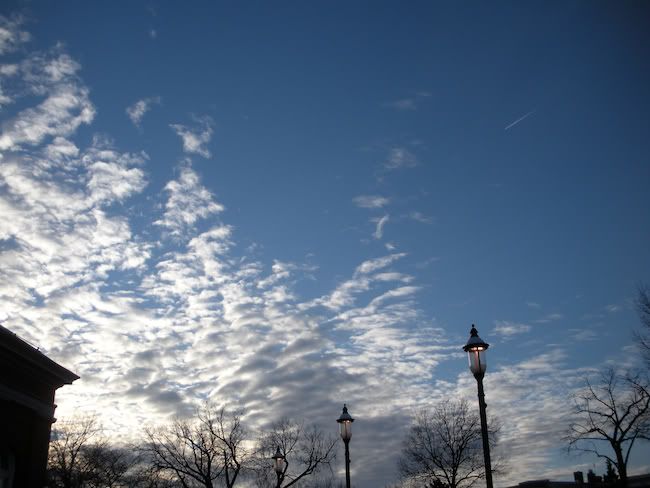 These late afternoon clouds over Eastern Market look like whipped cream, don't they?
The last half of January on the American midatlantic east coast, though gloomy and cold, is a time of gentle quickening. For those who pay attention, it is barely possible to tell that the light is returning. For instance, yesterday at 5:30 p.m. it wasn't
quite
dark. And though Brother Wind continues to blow sharp and metallic (as he has all winter), somehow he doesn't seem as angry as before solstice. Maybe even the wind has been trying to help me remember to breathe, who knows?
The few precious minutes of extra light, as well as the monumental gift of breath, (oh yeah!) has shifted everything, both physically and emotionally. I had a busy night of dreaming, but the dreams were very productive: shabby buildings were in the process of renovation, happy weddings were taking place, I was surrounded by loving friends from every era of my life. For the time being, the nightmares have vamoosed.
I must remember to be more cautious with dragons. They are wild, after all, and unimaginably powerful. Standing outside on a cold winter night, gazing at an eclipsed moon,
being pierced through by a dragon-arrow?
What was I thinking? Sometimes the shamanic lifestyle is way too crazy. Oh well, it's all over now. Onwards to the last half of January, and beyond. Shalom.