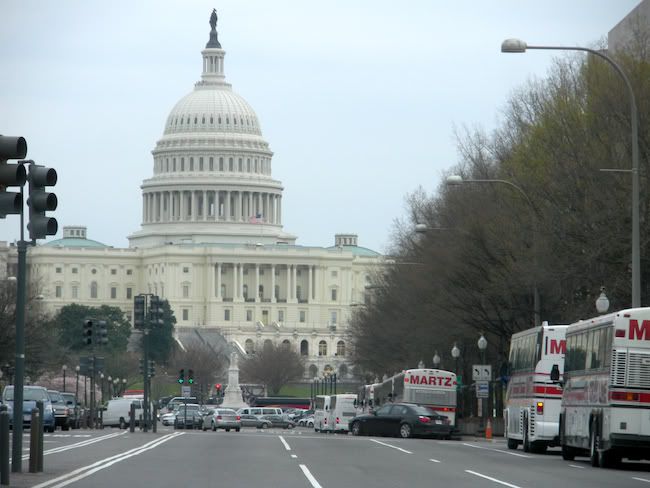 Every now and then members of Congress conduct tours of the dome of the Capitol. It involves climbing hundreds of steps up through all the layers of the dome to the very top where those who have mustered the valour to climb that far can stare directly into
the Apotheosis of Washington
, a huge painting that, according to the Architect of the Capitol, is the "eye" of the Capitol. Who knew it had an eye? Though, that said, ... I always thought of the painting as a lens placed very specifically at the center of the four quarters of the city, focusing energy down through all the floors of the building into the ground below, and upwards, through the apotheosis, into the sky. Thinking of it as an eye gives it purpose, consciousness, even - qualities I would not associate with a lens.
Talk about the All-Seeing Eye. Wow!
One of these days between now and June, whenever it works out, I'm going to be a part of one of these hikes up and up and up to the eye of the Capitol. I am so jazzed!
Before September 11th I spent a considerable amount of time on the floor of the dome, usually alone, just sitting, watching all the swirling energy. It was quite thrilling. (There was public access to the Capitol then.) On August 17, 2001, a group of cohorts and I cast a triangle of stillness around the center of the dome, using three beautiful chunks of rose quartz. One of us recited "Let America Be America Again" by Langston Hughes. It was quite a dramatic ritual, but back then, you could do stuff like that in public places without any fear of being thrown out, or worse: sent to Gitmo.
Sure enough, not quite one month later, after the twin towers fell and the Pentagon burned, we were vamoosed from our casual visits there. Though never still at the center, the dome remained empty for some time afterwards. We certainly anticipated something with that work. Oh yeah.
I still miss having access to that incredible, magical space. But a walk up to the top? Up to the eye? Wow!! That will be SO cool! I hope they let me take pics. I can't wait.
I wish I could remember which building this is. Look at the size of that sculpture! Wow.