In my dream last night I was sitting outside, on a sandy cliff, hanging out with President Obama's lovely young advisors. There was no one there I recognized, but I knew who they were. They were all smart, kind, rational, relational and good looking. In the dream I felt so grateful to be hanging out with them. They really took me in, acted like I was one of them. In the dream the wind was blowing, but I had a colorful silk scarf that I held up against my nose and mouth to protect me from the blowing sand. It was such a sweet dream.
I know, I KNOW, the health care bill is a quagmire that will take a lot of time to sift through and straighten out. The significant thing to remember, I think, is that the inertia of reform has been cranked into gear. As my beloved Isaac Newton said,
The vis insita, or innate force of matter is a power of resisting, by which every body, as much as in it lies, endeavors to preserve in its present state, whether it be of rest, or of moving uniformly forward in a straight line.
Though it's true that there's a lot of friction surrounding the new law, friction that will inevitably slow its forward motion, the important thing is to remember that it's in motion now. Indeed I am grateful, and I do feel "seen" and protected in a way I haven't since I had employer-provided health insurance. Let's see ... that was 1993 ... so it has been awhile.
What I'm most grateful for is the fact that I don't have to try to figure out how to make the new law work. Oh my god, can you imagine the complications? Yikes. My job is to be patient, supportive, and compassionate for the next little while. I am avoiding all the hideous hatefulness running rampant around the news media right now, all the reports of lawsuits and how so many Americans don't want this, etc. etc. It's a part of our angry national character that makes us so eager to predict doom. We would rather vent our spleens than succeed, I guess. My goodness.
As the immigration reform marchers said (on the signs they carried): CHANGE TAKES COURAGE.
It surely does!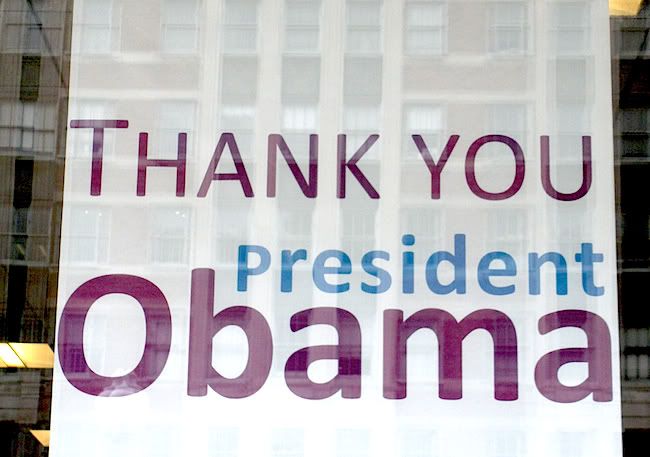 In a window on Connecticut Ave. NW, just below Dupont Circle.