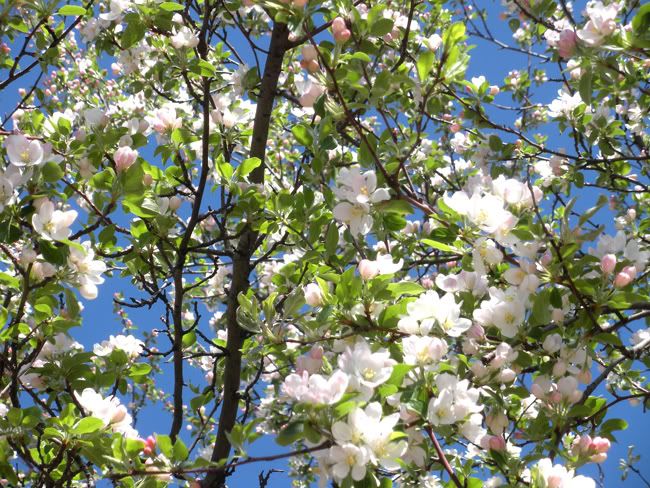 Springtime is beginning to mature. It has definitely left the newborn phase and is moving now into infancy. Spring, right now, is like the little chick when its fuzz falls out to make room for feathers, or like a human baby when the umbilical stub falls out, the eyes open fully and develop a definite color. Yep. Springtime is moving through its developmental cycle.
Even the birdsong is developing, changing from the newborn spring sound of cooing doves and an occasional robin to the massive chorus it will be in a few weeks when the migrating birds move through. That morning sound is so like the moment when the half-assed bleating of a newborn human becomes that full throated infant shriek that sends new parents into a panic.
Just now I was about to make the mistake of saying that we humans are more like nature than not like nature. Ummmm ... we ARE completely, 100% natural, even if we like to think of ourselves as distinct. Hello! Yes yes yes we worry and fret and think and pray. We shape for ourselves very fancy environments with our opposable thumbs, but how is that any different than the magnificent creations of ants, bees, beavers, birds (and so many other species)? When I see a perfect robin's nest I am always in awe that they can create such perfection without instructional DVD's or Crazy Glue, without thumbs - without hands of any kind for heaven's sake.
The cherry bloom has passed its peak. Brand new green leaves are appearing alongside the blossoms. I saw the first tulips just yesterday. Spring is maturing. And the circle of the seasons continues. "Onwards & upwards" is a universal phenomenon, oh yeah!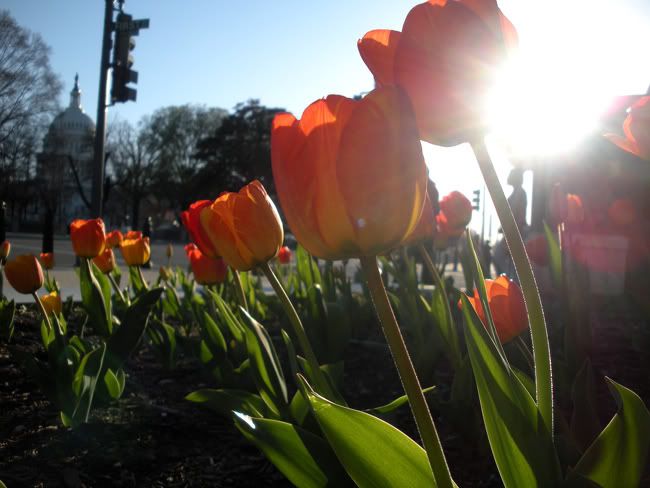 Inadvertently I caught my brother, the Capitol, in this pic. I was holding the camera almost at ground level so it was impossible to see all I was capturing. Very cool.