The White House with a couple of blooming trees and hordes of cherry tourists, April 2, 2009
In George Carlin's opinion,
God doesn't give a flying F about America,
so why oh why do we always say
God Bless America
?? It's a hilarious monologue, well worth watching. He was so funny.
Until recently, I wholeheartedly agreed with George, especially since I don't experience God as a Being with a personna or personality. But ever since election day last November, any time I hear our president speak, or see what he's doing in his administration, or like last night when I learned that he negotiated with the presidents of China and France in order to move forward from a moment of stalemate at the G20 meeting, I wonder if God actually has blessed America.
At this moment of greatest need in our country, for this guy to show up, and get elected - when the odds against that were phenomenal - and for our president to be so good, seems supernatural to me, an Act of God. If God did have a personality, wouldn't She have looked down at the U.S. during the last administration and thought, "They need help!"
For most of us Americans, Barack Obama came out of the nowhere, fully formed, ready to be placed inside the White House to do good deeds and mend so many wounds - already! After yesterday I'm wondering if, after being president for eight years (I hope), he might become a great diplomat, a negotiator of sticky issues all around the world. Do you think?
God bless America? I think She did! Bravo!!!
The visit to the ICU yesterday was a wonderful experience and was not limited to ten minutes. I'm still processing what happened; it was all very good. I'll write about it as soon as I find the language to describe it. My client was breathing without the respirator by the time I got there, on the mend. He will be fine. Thanks to all for your thoughts and encouragement. I felt it, and I bet he felt it too. God bless you and God bless America!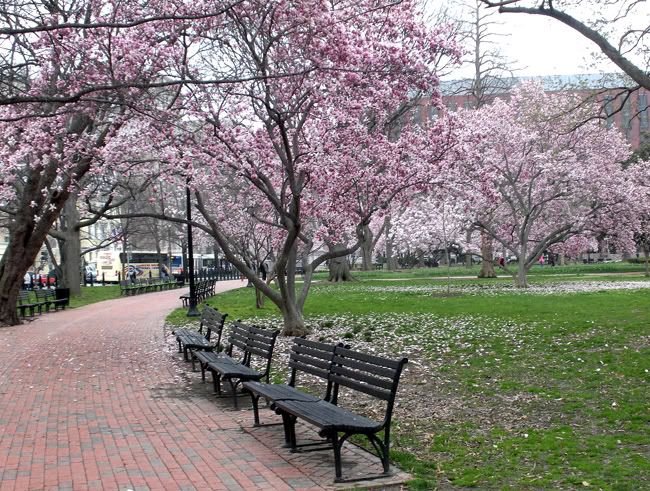 Lafayette Park, in front of the White House