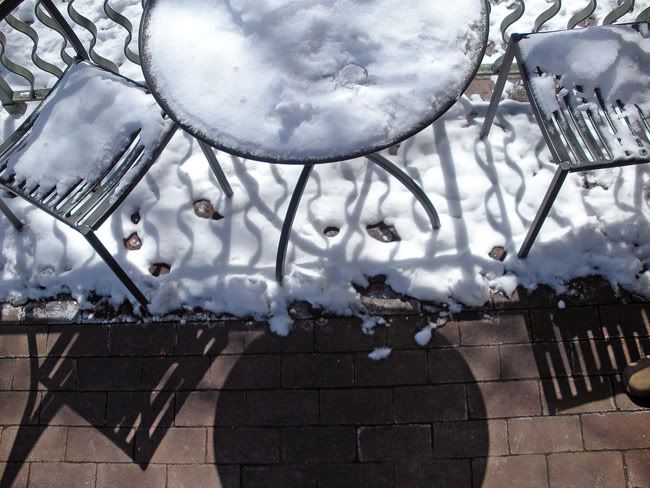 Oh man, it does doesn't it? Love can go so wrong in so many ways that you have to wonder what Cupid does
after
he shoots his arrows. Does he belly up to some ethereal bar and pound down a few pints, does he just forget all about his victims?
If love didn't go wrong, there would be fewer poems, books, movies and country western songs, to be sure. It does inspire the arts. If it has other positive results, they seem to come solely because the people involved Do The Work of figuring out why or how, and evolving away from their behaviors.
In a simple, small format, I'm going to work with the idea of love-gone-wrong in the last of the three paintings devoted to romantic love. I'm hard into the second painting, a monumental canvas that includes Annapurna, the three Fates, and the 47 beautiful love stories that were originally comments on the post from last Sunday.
In reviewing my own stories of love gone wrong, it's clear that the very wrongest of the wrong was the one with the painting professor who was in a position of power over me, was much too old for me, and was married. When he told his wife, a series of meetings ensued, me white knuckling it through the excruciation, sitting on a chair opposite the two of them who were holding hands, snuggled together on their living room couch. Can you imagine? I was twenty-one. After those hideous meetings I would go home, smoke dope and turn up Taj Mahal on the stereo as loudly as I dared. My roommate Chevy would inevitably come into the room and crank up the music even more. She was such a good friend.
The love part of that one continues to this day, though the affair piece of it ended pronto. Within a year, the wife developed spinal cancer, then died slowly - and publicly - as a convener of death and dying seminars around the city. (The work of Elisabeth Kubler-Ross was quite popular at the time.) During the wife's slow decline, I was a bystander, reading about the progress of her disease in the newspaper, feeling certain that the brief affair had literally killed her.
Love gone wrong? Bloody hell! A few years of psychotherapy helped me wrap my mind around this episode, but it's only now, with this triptych of paintings, then I'm finally letting go, once and for all, of the lingering sense of guilt I haven't been able to shake off my heart, even all these years later. That I'm making paintings is no coincidence, is it?
Onwards & upwards, oh yeah!