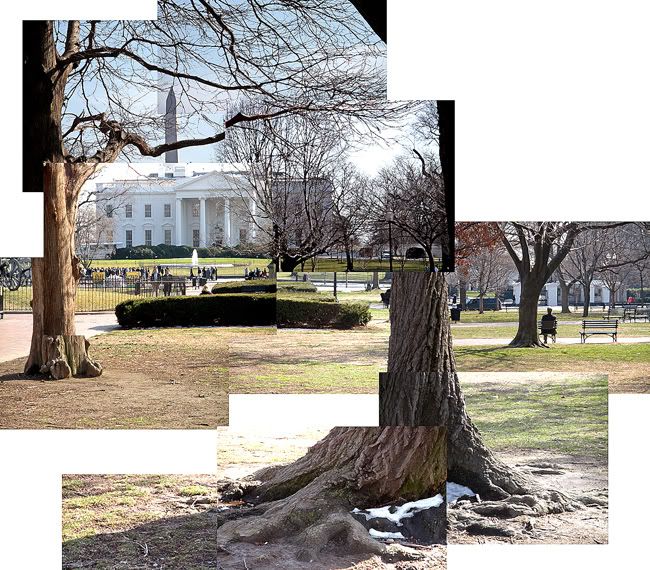 The White House from Lafayette Park.
We'll never know exactly what it was that the Masons had in mind when they designed the city of Washington. We do know that they wanted the pattern of the city to convey power and invincibility. We know that George Washington, Pierre L'Enfant and all those other apron wearing magicians worshiped The Great Architect, hence all the architectural magic that went into the making of this city.
They were so precise that they didn't trust the accuracy of compasses when they laid out the pattern. Instead they used the stars to make sure that, for instance, the four quarters of the city that come together in the center of the Capitol rotunda are spot on. North Capitol Street is
exactly
aligned north-south. East Capitol Street?
Exactly
east-west. The Masons were extremely careful, which is why I don't believe the Satanist conspiracy people when they say that part of the Masonic pattern is an inverted pentacle with the White House at the top. One look at a map reveals that the supposed inverted pentacle is not perfect. It's too wide. The Masons would never have created such a sloppy shape.
The symmetry of the Masonic pyramid, however, is perfection. At the top is the White House. Logan Circle and Dupont Circle are the feet. The circle where 16th Street, Mass Avenue and Rhode Island Ave. come together provides a beautiful, architectural pattern of ballast for the pyramid. I'm sure it's no accident that Rhode Island Ave. is part of the ballast, as it is one of the oldest Indian paths in this area.
I have "climbed" the pyramid (up Connecticut, down Vermont), walked "in" it and outside of it, trying to intuit its powers, all without a single satisfactory insight. One thing though, is that I really enjoy being "inside" the pyramid. It's a landscape of good vibes.
It was only yesterday that I realized my new office space is inside the pyramid, and that the top of the pyramid, once inhabited by an evil puppet, is now the home of dear President Obama and his fantastic family. No wonder I had such a great day of work yesterday! My clients loved it and I loved it. I have such a good feeling about this new venture, oh yeah!