I've been reading about Tibetan Buddhism, such a psychedelic high altitude version of Buddhism. Wow. Part of its allure for me is the fact that it's inextricably connected to the tradition of Tengerism I'm a part of.
You know those Tibetan prayer flags in five colors that you always see in pics of Tibet? (They can also be seen hanging across porches in groovy American cities like Takoma Park, Maryland or Berkeley, California. You can even see some on Capitol Hill, including the set of five hanging across my front door.)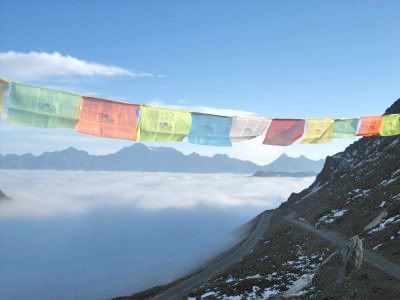 The horse in the center of these flags is a windhorse, a shamanic nature soul that carries prayers from our lips to God's ear - as it were, that is - since God for Mongolian shamans is the Eternal Blue Sky, a clear expanse without ears or any other distinguishing features other than the color.
A riderless horse speeds tirelessly across the heavens, carrying an auspicious faceted jewel that radiates peace and harmony. The snapping of prayer flags in the wind evokes the sound of the Windhorse (Lung-ta) galloping in the sky, riding the breezes and carrying prayers to the Eternal Blue Sky for the benefit all sentient beings.
Isn't that nice? What a noble horse!
Though in real life the U.S. Capitol isn't shaped so much like a stupa as it appears to be in these distorted reflections, I still think it would look great festooned with lots of strings of prayer flags. Wouldn't it? The Capitol policemen who questioned me the day I took these pics didn't share my enthusiasm, mostly because the car I was using as a reflection device belongs to their chief! No wonder it was so clean and shiny. Oops.