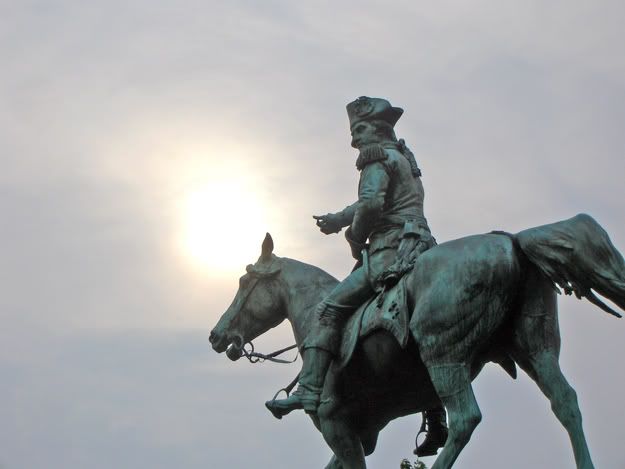 Do you remember the scene in the fabulous 1951 film,
The Day the Earth Stood Still
in which Gort (what a robot!) fixes his eye on guns and tanks? The weapons evaporate into thin air. Very cool scene. Excellent theramin music and "special effects" (such as they were in 1951) not to mention the message of peace and hope that's a part of the film.
When I saw Obama's face on the front page of the WaPo this week, I was so moved. For some reason, that scene from the movie flashed in front of my eyes. And in fact I did actually stop for a second in order to feel the historic moment everyone is buzzing about. Wow.
Originally I liked Hillary for Prez, but once I began to read what she and Barack were actually saying, as opposed to reading what the pundits were saying about what they were saying, I quickly shifted camp to the Obama side. Oh yeah.
Nobody knows what's going to happen come November. We can vote for the past, which is what McCain looks like to me, or we can vote for the future. Did you see
the Tom Toles cartoon
in Friday's WaPo? It brought tears to my eyes. I was a little kid when Martin Luther King delivered the "I have a dream" speech, but I remember it well. I believe this was what he was dreaming of, this very moment in time.
As if to honor the energy of
The Day the Earth Stood Still
, a thick layer of awful heat and humidity has settled over the District of Columbia. It's like pea soup out there. Today the weather gods are slowing us down. It's a good day to stop for a minute, to be present and contemplate the future. I hope the U.S. votes for the future. I do. I really do.