When Isaac Newton discovered that light could be broken into its component colors, that was a heretical notion. Sunlight was God's light back in Europe in the 17th century. Of course people saw rainbows but it was believed that the rainbows were not connected to sunlight. Prisms were thought to be the source of the rainbow colors rather than something that refracted light. It was believed that sunlight, because it was the light of God, was absolutely pure and could not be broken. Oh that Isaac Newton was such a radical thinker! Bless his heart.
Of course it wasn't only in western Europe that people worshipped Brother Sun. I just googled "Sun+god+worship." Good lord, it's almost impossible to find a culture that didn't worship the Sun! In fact, if we humans dismissed Brother Sun as just some mediocre star out there, unworthy of our attention and love, that would point to a serious flaw in our thinking. Yes? I say yes.
Sunset after the huge storm Saturday, a dragon of a storm that blew out the humidity and heat.
I worship Brother Sun, definitely. On a sparkling clear day like yesterday in Washington DC, Brother Sun inspires me to be at my best. He leads by example, showing me that being as shiny, noble, and generous as I can be is a worthy benchmark to strive towards. What's not to love about the gold light of an early autumnal sun? I mean really.
Can you tell how happy I am that the weather has shifted? I am one with the weather. Right now, the weather is spectacular, hence I'm feeling mighty fine.
C'mon in and make yourself at home, Autumn. You are so very very welcome! Amen.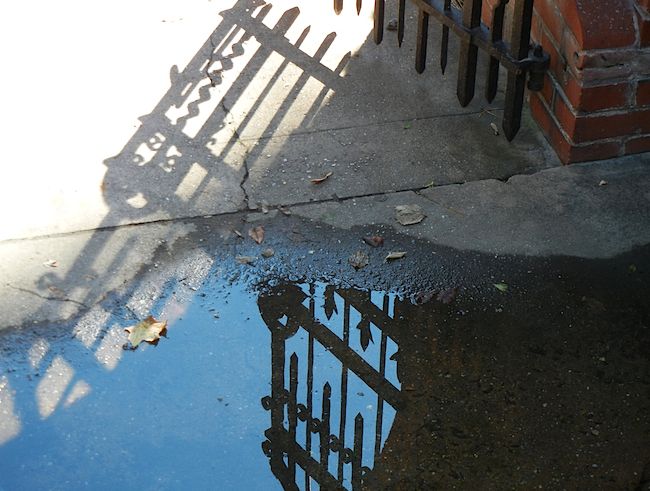 The gate at the Summerhouse on the Capitol grounds. The puddle is a leftover from the storm.