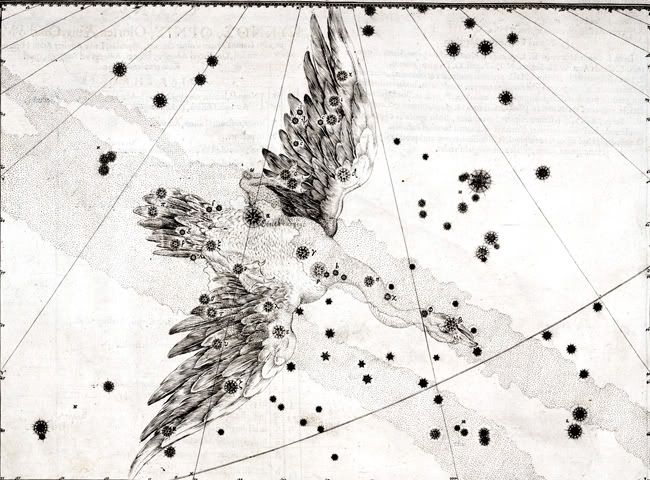 Cygnus, the swan
Once upon a time, they were all stars. Every dot of light in the night sky, except the moon of course, was a star. Some wandered (that's what "planet" means), some were tiny ("asteroid" means small star). Did you know that the word "comet" originally meant "stars with long hair?" Sweet.
It's no wonder we thought we were the center of everything, standing on terra firma, gazing out into the impossibly star spangled skies. Before Galileo, the sky was a lot simpler. There were big stars and small stars, wandering stars and stars with long hair, but they were all stars. A part of my "memories" of past lifetimes, especially during the Ice Age, involves the importance of the stars. In my mind's eye, I remember how present the stars were in our lives, how we wondered, even then, what the heck was going on up there.
No wonder it was such a shock when Copernicus published his book
On the Revolutions of the Heavenly Spheres.
We knew by then that the wanderers weren't really stars, but we still believed that this beautiful planet stood at the center of the universe.
Since the invention of electric light, our relationship with the stars has changed dramatically. Though it's true we can't take our eyes off the night sky even now, the way we stargaze is very different. We look through telescopes or at photographs taken through telescopes.
I am so grateful for the Hubbel images, and for Voyager I and II, and the other probes and great telescope images of the past two decades. I'm completely fascinated by everything we've learned about the stars, also what we've learned about the solar system; the true nature of the planets and the rings around them, as well as the moons that "shepherd" the rings, dwarf planets, plutoids, centaurs, comets, the asteroid belt, the Kuiper Belt, the Oort cloud and that
giant ribbon
at the edge of the solar system, for instance.
The more we find out, the more mysterious the night sky becomes. There's no doubt, though, that we humans love the stars, no doubt that we are related to the stars. I love that!