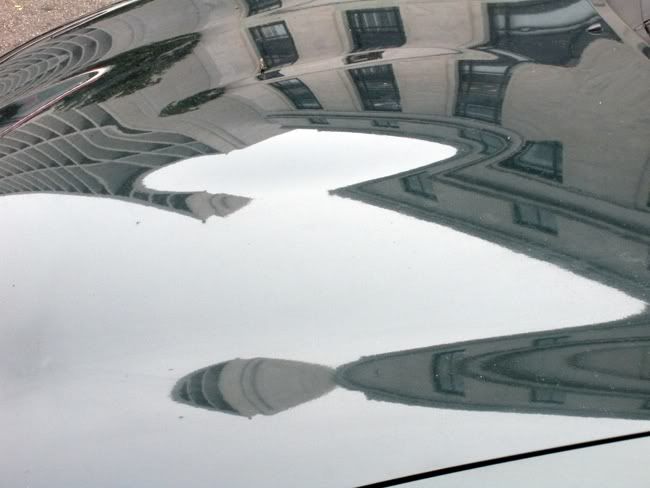 The Dirkson Senate Office Building, reflected of course
I believe the Buddhists when they say life is a precious existence. I feel that truth in my blood and bones. That said, though, I'm not one of those people who wishes for immortality. I don't even particularly aspire to a super long lifetime. I'd like to live and die like my friend Gordon - live full throttle, then drop out of this body quickly, maybe even with ease.
There is so much emphasis in this culture (and in many - most?) cultures on living a long life, as long as possible. Why? Medical technology has made it possible to keep people alive long past the time when they would have died otherwise, at great expense and usually by way of a lot of suffering. Sometimes that is such a blessing. Sometimes not so much.
What's wrong with being my actual age (56)? What's wrong with looking my actual age? What's wrong with feeling OK about dying when my time is up, even if some people believe it's "too early?" Does my acceptance of my age, appearance and my curiosity about passing through the veil, when that time comes, does that mean I'm complacent about this precious existence? Not at all!
Instead of going on and on about this, I'll turn the rest of the post over to Mary Oliver. She says it perfectly, as always. Happy weekend, y'all.
WHEN DEATH COMES

When death comes
like the hungry bear in autumn;
when death comes and takes all the bright coins from his purse

to buy me, and snaps the purse shut;
when death comes
like the measle-pox

when death comes
like an iceberg between the shoulder blades,

I want to step through the door full of curiosity, wondering:
what is it going to be like, that cottage of darkness?

And therefore I look upon everything
as a brotherhood and a sisterhood,
and I look upon time as no more than an idea,
and I consider eternity as another possibility,

and I think of each life as a flower, as common
as a field daisy, and as singular,

and each name a comfortable music in the mouth,
tending, as all music does, toward silence,

and each body a lion of courage, and something
precious to the earth.

When it's over, I want to say all my life
I was a bride married to amazement.
I was the bridegroom, taking the world into my arms.

When it's over, I don't want to wonder
if I have made of my life something particular, and real.

I don't want to find myself sighing and frightened,
or full of argument.

I don't want to end up simply having visited this world.

--Mary Oliver