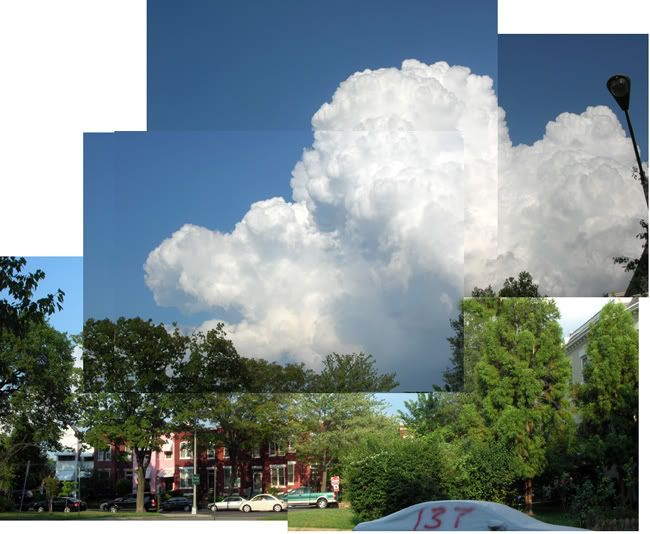 Yesterday was a fabulous weather day, mostly sunny and pleasant, not too hot, with a nice breeze. The pleasantness was interrupted now and then by a series of fierce storm squalls. These storms moved so fast that more than once, by the time the rain reached the ground, the clouds were gone, making it seem like rain was falling from a perfectly blue sky. Very cool.
The cumulus clouds that blossomed between the storms were truly fantastic - huge and so close I could almost touch them. It's easy to see how people picked up the idea that angels live there in all that pure whiteness. I would, if I could - except - the average life span of a cumulus cloud is ten minutes. Life is short, I know, but ... that short? Not for us earth dwellers, please!
Do you think angels play harps? OK, maybe. I believe angels also play steel drums. Don't you think? Or at least they should. Steel drums make
such a heavenly sound.
To my eye, the storm rolling overhead in the vid looks like a giant face, not the same species as the steel drum playing angels, oh no. This guy is not in a good mood. The white column looks to me like a gigantic nose.
Gesundheit!
Can you imagine how thrilled I was to capture a digitized boom of thunder during this brief moment of filming a very brief storm? Thanks, all you tropospheric cloud people, for keeping me endlessly engaged yesterday. I salute you!