August should be my favorite month. It's a slow month, and I love slow. I adore every Leo I've ever met. Here in DC, August is as quiet as the week between Christmas and New Year's. Congress is in recess so the energy is calmer. Everybody takes off for a little while or a longer while, to the beach, a lake in Vermont, the barrier islands off N. Carolina, or locations more and less exotic, like home to Wisconsin to visit with family. There's not much traffic, restaurants and stores are less crowded. It's mostly just the locals who stick around. Like I said, I should love it.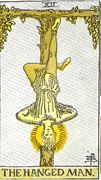 Historically, though, August has never been my happiest time of year. After Labor Day I begin to thrive again, but the last dregs of summer are challenging. Though not too humid today, usually the month of August features the worst of the humidity, toxic air and plain old heat. The mosquitoes get especially ferocious towards the end of summer, when their days are numbered. And, too, there's the fact that the light is decreasing. Beginning right around the first of August, the waning of the light is noticeable. Palpable, too. You can almost feel the daylight slipping through your fingers.
Maybe that's why I always think of the Hanged Man from the tarot when August rolls around. The Hanged Man is not a happy camper, no matter how holy he is. In August, I feel like the Hanged Man, kind of down in the mouth, as they say.
As if to confirm the hanged man energy of this time of year, some guy decided to stand on his head in Lincoln Park this afternoon, just as I was taking a walk during a break at work. He stayed put long enough for me to get this nice picture of him. Oh yeah, it's August.
OK. So, it's August and I'm a little bit depressed. What else is new? This year I'm trying as hard as I can not to mope around. September will be here soon enough. Buck up, Reya, buck up!