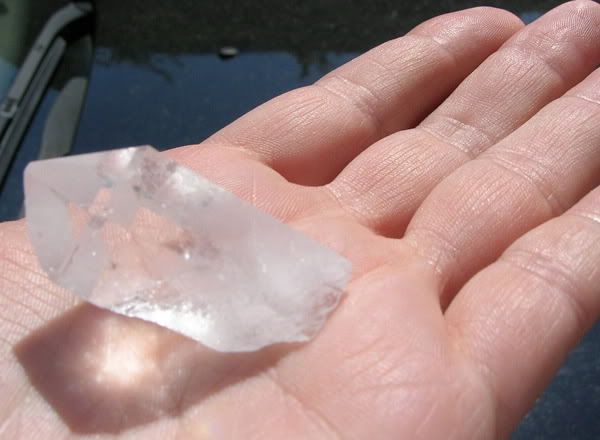 A client gave me a box of healing crystals that had been gathering dust in his attic for twenty years. There were a LOT of crystals, so many that even though the idea of hoarding them all for myself crossed my mind, I realized keeping them would amount to the same thing as leaving them in a box for twenty years because there's no way I could ever use all of them. I had no choice but to pass them on.
Like a litter of kittens, distributing these crystals to deserving recipients has taken quite a commitment on my part. Of course I had to clean them straightaway, not only to clear the dust and gunk from two decades in an attic, but also to strip away stale energy. You can wash crystals in cold, running water, or give 'em a soak in salt water, but my favorite method is to put them in a glass of water, then put the glass in the freezer. Sometimes I leave them there for days. When they're ready, I let the ice melt in sunlight. After that, they sparkle like stars.
Following my elaborate cleansing, I arranged the crystals on the windowsill for a few days so they could soak up sunlight, moonlight and starlight, and get "refreshed" by the breeze. Then I charged them with Reiki, and blessed them with sweetgrass smoke.
Once the crystals were dazzling clean and radiant with healing energy, I didn't want to just pass them out to anyone. I got picky. It seems that working with them created some kind of synergy between myself and these crystals. They're rocks, so it's not a huge resonance like it would be with a human or animal, but it's there. It is.
The distribution process has not been random. I've studied the crystals, tried to perceive who they would like to go be with, or chosen 3 or 4, then allowed the recipient to choose among them. Mindfully, carefully, and with love, I've been giving away these beautiful stones, watching them pass through my hands in a sparkling, continual stream.
Cirrus clouds release showers of ice crystals from their perch high up in the stratosphere. These ice crystals are so ethereal, they never reach our corner of the troposhere. You can see them, though, like silvery trails descending from the wispy cirrus.
OK, it's true that I'm not wispy in any way, nor do I live in the stratosphere, nor are quartz crystals the same as ice crystals. Still I feel cirrus-like, my pockets jingling with quartz. My client has no idea what a wonderful gift he gave me. Wow.