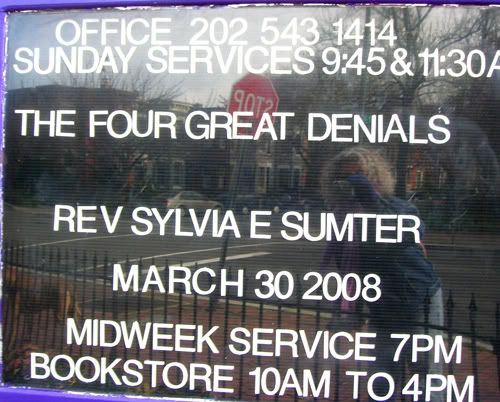 Anyone who has looked at my blog over time understands how much I appreciate the sermon titles that appear every week, like clockwork, on the marquee outside the Unity Church at Seventh and A Streets NE. I know a lot of people who attend the church regularly. All of them rave about Sylvia Sumter, the minister with the mostess. Even guest speakers create excellent sermon titles at Unity Church. It's part of the culture, obviously.
When I saw "Four Great Denials" last week, it didn't take me five minutes to come up with ten denials that I fall into with regularity. I'm sure I could come up with ten more if I wanted, but who wants to admit to so many denials? Not I! Talk about denial! Whew!!
I wonder what Sylvia thinks the four "great" denials are? I'll never know since I have never attended one of her services. I'm afraid seeing her speak would ruin the magic of her sermon titles. It's a dumb excuse. I should go sometime, particularly because I've heard that the congregation has outgrown the church space and will move to Arlington next year.
Yesterday Sylvia talked about the "Four Great Affirmations." I've been wracking my brain trying to come up with four affirmations that truly speak to me. The way it works is, you're supposed to say out loud, in a declarative way, something you want to become. OK. Why not? But - when I say, "I am an excellent manager of money," the only thing that happens is I immediately feel like a pathological liar. I am not encouraged or affirmed. Perhaps I've been too ambitious in the creation of affirmations, who knows.
There are only two affirmations I say to myself on a regular basis. I believe both of these statements, and too, they help draw me up out of my spirals of drama, always a good thing. One of them is:
I'm as close to God as I want to be,
an idea I borrowed from the great Rabbi Manewith at Temple Micah. I also frequently say (and believe),
Life is good and I am grateful.
Wonder what Sylvia Sumter thinks of as the four "great" affirmations? I'm so curious, but I can't imagine. Can you? Any ideas?