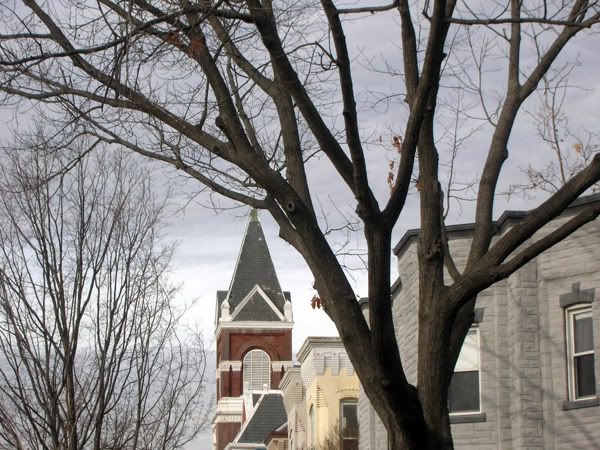 On days like today, I'm able to vividly remember the harsh winters in the midwest where I grew up. Yikes it's cold. And the wind - gusty, sharp, freezing! The wind today is just plain old
mean
.
In Chinese medicine, wind is a form that demons take. Wind can get inside your body and cause all kinds of problems, like coughing and congestion, muscle aches, in other words, all the symptoms we Americans call 'the flu.' In the throes of a high fever, coughing, nose blowing, barfing, diarrea, and the stupidity that comes along with the symptoms, the flu can feel like a demonic possession, can't it? I think so. Remember poor Linda Blair in
The Exorcist
? That was one bad case of the flu!
Those of us who believe in western medicine think of the flu in terms of bacteria and viruses. How boring. I'm not saying that viruses have nothing to do with the flu. They do. But that's not all there is to it. The flu brings with it a mood, a feeling comes into the room with the virus. This is one of the reasons I am so enjoying my study of Chinese medicine, because I know what they mean when they say wind can be demonic. I know that feeling of wind creeping underneath the collar of my warmest coat, sneaking up the sleeves of my most snuggly sweater. On days like today I make sure my ears are completely tucked under my hat, not only because ears get so cold, but because I can feel the wind trying to find its way into my brain, down my throat. The ancient Chinese believed demonic winds lived in caves most of the time, only coming out when 'hungry.' Maybe that's why we sometimes say the wind is "biting." Satanic wind, get thee behind me!
There are many different kinds of wind. Some winds are much kinder, some winds blow away stagnant air, bring relief during the summer. Gentle breezes are part of the beauty of spring and fall, too. I'm very friendly with beneficent winds, in fact I feel a familial relationship with nice winds. Why not? But the wind today is no friend of mine. It is NOT my brother.
Thank God for warm hats, scarves, gloves, and for the full length black wool coat I'll be wrapping tight around me when I take Jake for his walk. Jake, too, will be wearing his fleece sweater.
A hard freeze accompanied by a mean wind is part of January here in the midatlantic. I'm grateful to live indoors in a well warmed house, safe and sound, protected from the evil wind. Stay warm, stay out of the wind and be well, ya'all.