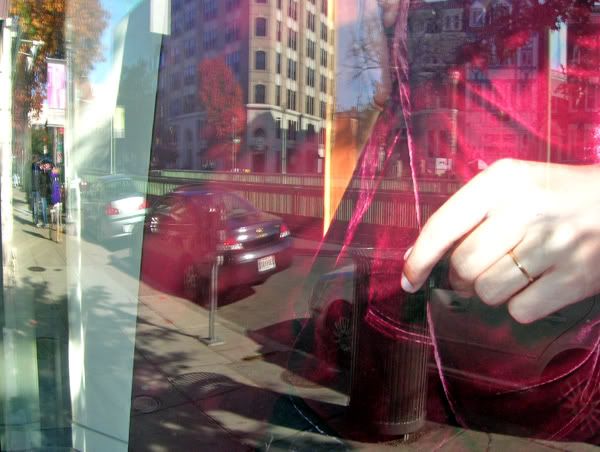 Yesterday I had lunch and a nice walk with one of my favorite blog kin, Steve of
Shadows and Light.
My kinship with Steve is automatic, easy and completely comfortable. Just as with other blog kin I've become friends with in "real life," Steve is a person I would never have known if not for blogging. Thank you so much, dear Pod, for suggesting that I check out Steve's blog! And Steve - thanks for blogging!
Steve and I share a wavelength even though we don't really share the same aesthetic. It's a very interesting connection that made our walk so much fun. How interesting to see what he noticed and what he was drawn to, compared to what my eye picked up.
The city was deserted yesterday, making the walk from Dupont Circle to Logan Circle and up to the White House almost spooky. There wasn't even any traffic. It was really odd - like being in a movie. What we did, in essence, was "climb" the masonic pyramid, the street pattern designed by Pierre L'Enfant and the founding fathers (for reasons we modern Americans will probably never understand.) The Masonic pyramid is a well established pattern that our feet followed completely by accident. Very cool!
The performance art continued even as we waved goodbye, standing on opposite platforms of the McPherson Square Metro stop. Our trains arrived almost simultaneously, his heading one direction and mine the other. A poetic ending to our dance, don't you think?
Life is full of surprises and wonders. From out of the nowhere, apparently, any Saturday afternoon can suddenly turn into a Masonically inspired shamanic ballet. I love that! Thanks, Steve! Thanks Pierre, George and all the rest of the Masons! I salute the enduring power of your designs. Even now, a couple hundred years after you laid out the grid of streets here, they're sill compelling enough to trace by foot. Isn't that something? Yeah!