The shale outcropping above the confluence radiates an undeniable presence. It feels like a great guardian overlooking the mayhem of the convergence.
Harpers Ferry is a very strange place energetically. It makes perfect sense that John Brown went nuts and started the Civil War right there at the confluence of the Shenandoah and Potomac Rivers.
The energy was so powerful that my friend and I found ourselves reluctant to stay more than about an hour or so. It was a cleansing energy, but not gentle. It was more like energetic dermabrasion. Whew!
I have a very special fondness for river confluences. I love standing at the end of Hain's Point here in DC where the Anacostia and Potomac rivers converge. There is a quiet power there, a sense of unity for two rivers that seem (to me at least) to long for each other. When I stand there and sense the energy what I feel is that it's so RIGHT for the rivers to join. Yesterday at Harpers Ferry the confluence felt more like a battle. There was chaos and destruction where the rivers came together, a sense of clashing and bashing more than anything like unity or wholeness. It's interesting to think about.
The confluence definitely sucks all the energy out of the town proper, or the part of the town we saw anyway. There were some cool historic buildings that have been carefully preserved, but the energy was frozen, stuck. It was kind of weird. I do recommend, for those visiting Harpers Ferry, a trip to Hannah's bar-b-que by the Amtrak stop. Oh man that sandwich was so good!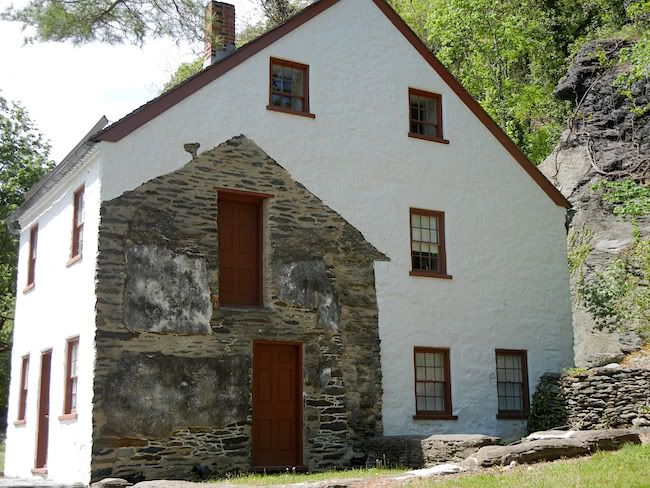 Very cool house and ghost house. This was between Harpers Ferry and Shepherdstown.
After being battered for awhile by the energy in Harpers Ferry, we hopped back in the car and drove twenty minutes to Shepherdstown, a very lovely, charming, historic college town. There we checked out all the little shops, walked, drank coffee. Sweet. I bought a beautiful crystal that was "seeded by the Lemurian people," the woman at the shop told me with a straight face. And people think I'm weird!
On the way out of Shepherdstown, not on purpose, we passed through the Antietam battlefield, drove right past the cemetery. Of course I was on edge as I always am when encountering the energy of Civil War battlefields. My friend, who is a shaman just like you and me, said it felt like a strong wind was bearing down on her car. She felt she had to push harder on the gas peddle to get through it.
It was a fabulous day trip. I feel clean, restored in the way I always am after a visit to my beloved Appalachian mountains. I have to remember to get OUT OF TOWN periodically. When I don't get out, I am the worse for it. Must remember!