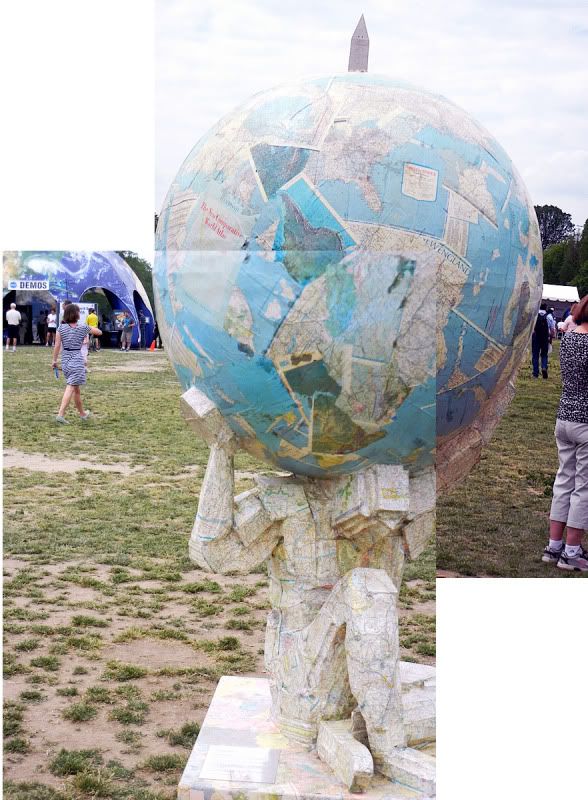 This was so cool - part of the Earth Day celebrations on the National Mall. It's made from old maps.


In a little while I'll take a shower, have breakfast. After that a friend will swing by to pick me up. We're going to Harpers Ferry, W. Virginia. Ahhh, just what the doctor ordered! We'll have lunch, take the historic walking tour, go crystal shopping. Does that or does that not sound like the very best kind of day in the world? It does to me.
The weather is great. After two days of soft chilly rain, the sky is a sparkling blue. The trees look refreshed and even the gaudy azaleas seem softly pretty. The high in DC will be around 60. I'm thinking it will be somewhat cooler in Harpers Ferry, and too I'm sure that land is a few weeks behind us in terms of the progress of the season. I'm charging my camera battery even as I type this. Oh man do I need a day outside the District! Oh man.
I loved the rain and savored what was probably the last very chilly night of the season. Today is a perfect day, arriving right on time for my day trip to Harpers Ferry. I wonder why I'm here sometimes, I mean what's in it for me? Then later on, I wonder why I wonder so much. The landscape here supports me, the weather gods bless me when I need it most, like today: not too hot, not too cold, plenty of sunshine. I'm not saying I'll never move away from DC - that would be a ridiculous proclamation considering my history - but I am a part of the landscape after all these years. It's the Potomac River flowing through my veins, hell yeah. My skeleton, once composed of Franciscan melange, is now rather column-like: marble, sandstone, granite. For now, I belong here. So be it! I just need a day out of town!

Life is good, plentiful, abundant. I am grateful. Shalom.