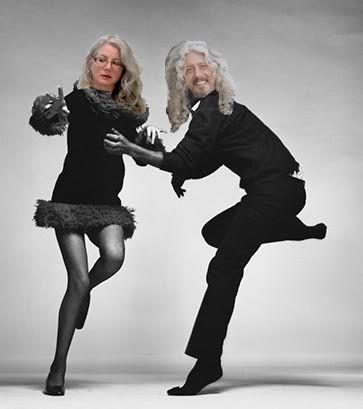 I just realized Arlo and I have matching hair. Wow.
My date Arlo Guthrie and I are headed over to the Willow Manor Ball today where we will drink champagne, hobnob with folks famous and not so much, dead and alive, notorious and not. It is THE blog event, something I look forward to every year.
Now I know I look a little nervous in the picture, but the truth is we puffed from a funny cigarette just as we were departing the Occupy Wall Street scene in New York, and now trying to dance is somewhat of a challenge! I feel like giggling, but I'm thinking I need to pay attention to what I'm trying to do. Safety first!!
How the hell did I get into this dress which was once worn by Twiggy? It's the Ball. It is magic. See y'all on the flip side. Follow the link on the sidebar and join us, please? Bring a dream date - anyone you want, the rules of marital fidelity, not to mention life and death, do not apply. On other days we can live disciplined, orderly lives. But today? Gotta dance!