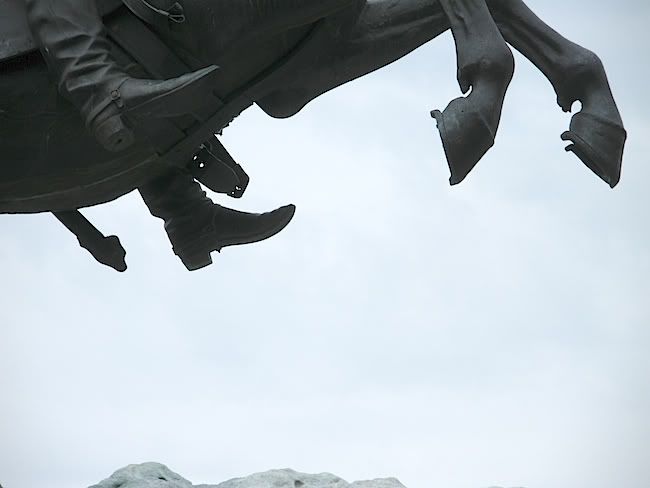 Andrew Jackson sculpture in Lafayette Park, next to the White House.
We used to always say
What happens between the worlds can change all the worlds
- or -
heal all the worlds
. I think there were other variants. We spoke these words right after casting our magical circles. I always thought of this phrase as an affirmation, a way of encouraging us to put as much energy as we could into the intention of the ritual.
When I left my life as a witch, I forgot all about the idea of effecting change from between the worlds. I stopped "conjuring" - the purposeful shaping of energy for a specific outcome. What I discovered is that for me, conjuring always got me bound up. All that shaping and focusing on a specific intention meant I became blind to alternatives, I couldn't see or imagine anything other than my intention. It was as if, when I did magic, I tied my own energy into knots, got all snarled up, developed the worst kind of tunnel vision. It took awhile to unwind from all that conjuring. Whew. It was such a relief to cease and desist.
When I stopped conjuring, I decided the healthiest thing I could do was to live very fully and specifically in THIS world - you know, the world of flesh and blood, the world commonly known as "reality." I wanted my feet securely planted on bedrock and topsoil, my heart beating real blood, my lungs taking in the skanky air of the swamp where I physically live.
I had in mind some kind of pure existence, something simpler and more direct than the world of magic. Ah yes. It was a very idealistic, one-dimensional idea in which I did not take into account the fact that life is always multi-dimensional, no matter what. I'm no longer there to conjure, but I still visit that place every day. I'm between the worlds when I pray and meditate every morning, as well as in dreams. I'm often between the worlds when I work, following the wisdom of my hands. Ronda, you know what I'm talking about, yes? Walking home from dinner with a friend last night I watched the lightning bugs rise in Lincoln Park where the thought struck me that every dawn and every dusk exists between the worlds (as well as in the "real" world). The space between breaths? Yep. Between. What about my photos? I mean, really!!
This morning I'm thinking about the blog realm. Here we occupy a space between the worlds, definitely! We make friends with people we've never met, we talk to people who live halfway round the world. Time/space collapses here; I leave comments on blogs written by people in Australia where it's already tomorrow (or - is it yesterday? I can never wrap my mind around it).
"In here", we find soul mates, folks we've known in other lives, other members of our tribes. Yes indeed, this blog realm is most certainly between the worlds. For heaven's sake.
As it turns out, though I place my feet on the swampy ground of Washington DC every day, tracing the same paths that Brother Lincoln and Brother Whitman followed way back when, and Brothers Washington and Jefferson before that, I'm still a creature who inhabits, and benefits from, the things that transpire in liminal spaces. So, go figure. There is no such thing as a pure earthy, one-world existence after all.
I was slow to put two and two together but I get it now, at last. May what happens between worlds heal all the worlds. Amen!
Between the worlds, after a nice rain.