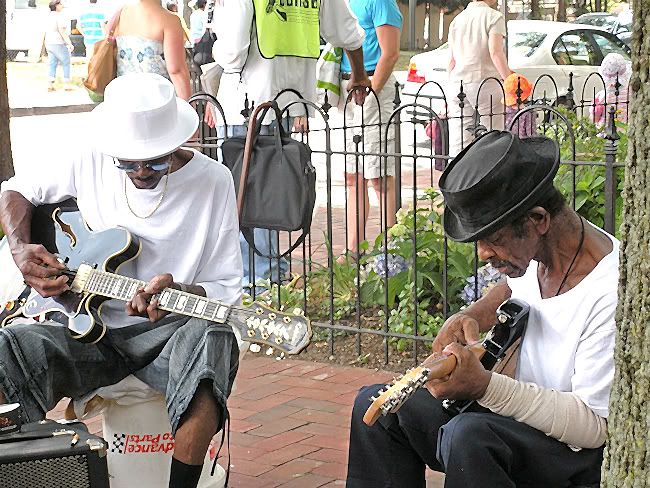 They were playing the blues. Love those pork pie hats.
All the planetary, stellar energy has been so interesting, and so very very intense. Whew. The big ole eclipse is now over and done with. Dealing with the resonance of that big event is no small task, but the main event is over. Onwards and upwards. Don't know about you, but I have a lunar hangover. That's the thing about the moon - she'll get you drunk as a skunk; the next thing you know, you need a serious dose of Lunar Strength Advil - except - there is no such thing.
Coming back to earth after a big whoop like this weekend is always such a relief. I know many grounding techniques, thank goodness. One of my favorite methods involves reconnecting with my people. By "my" people I mean friends and family of course, but it's also fabulously grounding to meet and greet the folks with whom I share the "small town" of Capitol Hill. The Hill is smack dab in the center of Washington DC, but nevertheless it is a small town where everyone knows everyone else. It is, without a doubt, the friendliest neighborhood I have ever lived in.
That's why, in spite of the blistering heat of yesterday, I made myself walk down to
Eastern Market.
On Saturdays and Sundays it's a busy place. Seventh street fills up with vendors selling arts and produce, flowers, jewelry, pottery. On the weekends, Eastern Market is a farmer's market and flea market, a gathering place not only for the citizens of the Hill, but for people from all over the city, Maryland and Virginia. Even after all these years on the Hill, I love strolling through, looking at all the people.
I wasn't the only one in a mood to be out and about. The market was packed as you can tell from these pictures. I ran into at least a dozen neighbors, stopped to exchange small talk, had an iced coffee with someone I haven't seen for awhile. Chatting with all these lovely people was just what I needed to get my feet back on terra firma. Oh yeah.
Today I will again engage in relational behavior since my work schedule is full. I love the planets and I do dearly love the stars and all their shenanigans, believe me, I do. But when it's time to come back to earth, nothing is as encouraging and helpful as connecting with people. I love my fellow human beings so much. Shalom.
I wish you could see in this picture how HUGE Major is (the dog). Wow.