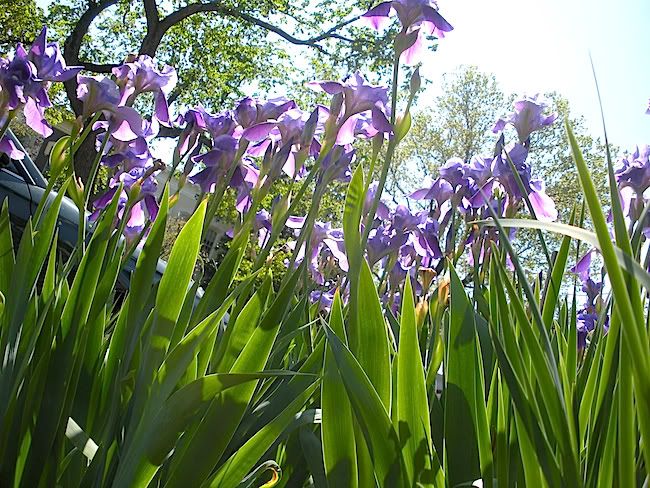 I'm groggy. I love that word, but I don't love the condition. For two nights I've been suffering from insomnia, hence the grogginess. I am very very very lucky to be such a good sleeper. Usually. Every now and then, for reasons unknown, I toss and turn, worry excessively, imagine the worst. Who knows why.
I know, I'm not
supposed
to worry when I can't sleep. A great therapist told me once that while lying in bed, one is in a passive posture which makes the worries seem worse. She said, "If you want to worry in the middle of the night, stand up, put your shoulders back, lift your chin. Then worry as much as you want."
Great practical advice.
Tuesday night I decided to go with the flow of sleeplessness. I worried for awhile, then tried re-arranging the pillows in every possible configuration. The tossing and turning was so intense, it was probably aerobic. The novelty of such a night was slightly amusing, I must admit. I thought about
Harold and the Purple Crayon,
and other famous insomniacs. I listened to the robins singing late into the night (someone told me they sing at night because it's so noisy in the morning they can't hear each other). But last night when I again couldn't locate
the Sandman
no matter how much I wanted him to come visit, I kept myself busy with some techniques for falling asleep that I suggest to clients when they complain of insomnia.
Count backwards from 100. (Didn't work.)
Slow down my breathing, just slightly. (Didn't work.)
Do that yoga thing of putting my feet up a wall for a few minutes. (Didn't work.)
Think of 10 things I'm thankful for. (The gratitude practice was great, but it didn't work.)
I wasn't cranky about it, though I'll admit I was impressed that none of the above was having any effect. At last, just to be retro, I decided to count sheep. I imagined cute, fluffy little cartoon sheep leaping, one after another, over a cartoon fence in the midst of a cartoon landscape. The next thing I knew, the sun was shining through the crystal I have hanging in the window, lighting up the room with tiny rainbows.
Hmm. So - counting sheep worked? Who knew? Very interesting - and - I hope tonight I can return to my usual pattern of going to bed and getting to sleep in a timely manner. As for today, I think a second cup of tea is definitely in order. Oh yeah.