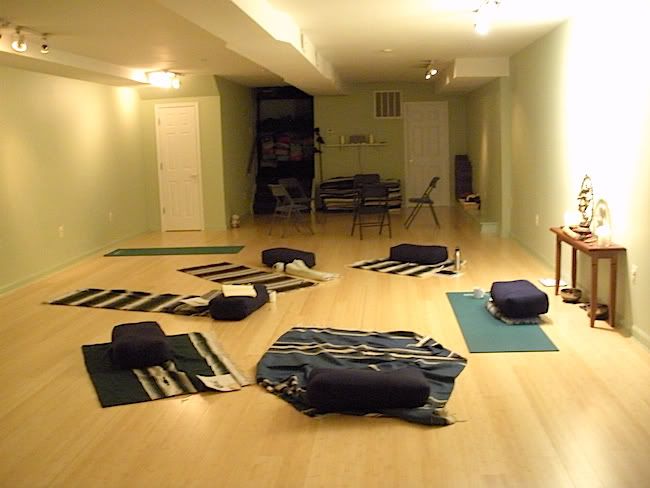 Capitol Hill Yoga is such a beautiful studio. I took this during a class break yesterday.
For those who read this blog, it might come as a surprise to learn that I tend to forget how off the mainstream my thought process and "lifestyle" truly is. To most folks in my society, and in particular here in Washington DC, my world view could be seen as a bit more than a few chips short of a fish dinner. After all, I talk to ghosts, I think the sun is my brother (as is the wind), I'm in relationship with various species of people who live among the clouds. I have past lives and parallel existences, and I share "soul bits" with someone I met through blogging. I have spirit guides and animal guides, and ... Should I go on? Probably it's not necessary.
One of the reasons I forget how odd I am is that I am so warmly accepted, as is, here in the blog realm, on Facebook and in "real" life here on Capitol Hill. I've never lived anywhere where I felt so much a part of the fabric of the community, not even in San Francisco where you're
supposed
to be odd.
Yesterday I was reminded, during Reiki class, of how "out there" my sense of the world truly is. It was a great class, a fabulous gathering of individuals, some of whom know Reiki extremely well, others who just thought it would be fun to try. Even the skeptics were such good sports when confronted with my thoughts about "reality." It was very generous of them!
My dance of shamanic alignment with the world as I know it is quite abnormal, compared to most, but I look completely normal, I'm not vociferous about my worldview, and, too, I have a sense of humor about it. And - I live on Capitol Hill where I am graciously accepted.
I'm tired today after having to focus, and interact with a group, for so many hours yesterday. But it's a good kind of tired. It was a great class yesterday, in a beautiful yoga studio, among wonderful people. All I can say is: wow.