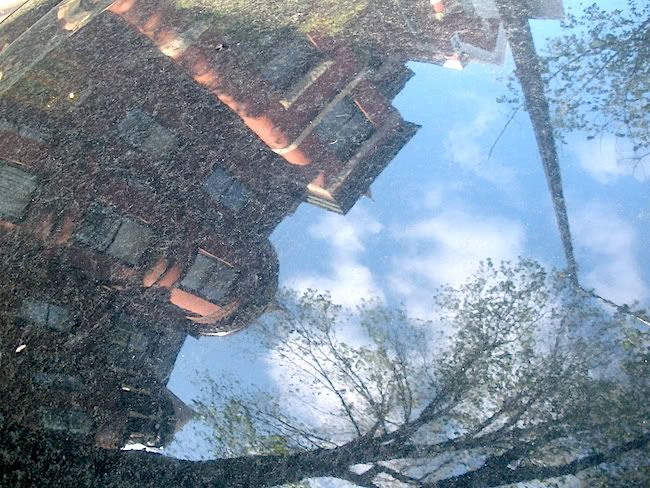 Yep. That's pollen.DILETTANTE

Etymology: Italian, from present participle of dilettare to delight
1 : an admirer or lover of the arts
2 : a person having a superficial interest in an art or a branch of knowledge : dabbler
synonyms see amateur
I'm content to be a dilettante. Indeed I am so happy to dip first into one topic, then another, then another. I like full-spectrum learning, a bit of this, a bit of that.
Don't misunderstand: I so admire the kind of person who is able to identify one area of interest so absorbing that they spend the rest of their lives learning and researching or practicing that one thing. The dedication of those who study piano, cooking, the history of the American civil war, neurology (etc., etc.) blows my dilettantish mind. And I benefit GREATLY from the books that get written, the records that get recorded, the cookbooks and movies made as the result of that kind of focus. In fact, specialists make my life as a dilettante easy, by doing the hard work of delving deep so I don't have to.
Jack Weatherford is one of the specialists I so admire. He has spent decades studying Ghenghis Khan and the history of the Mongolian empire. His revisionist historical biography,
Ghenghis Khan and the Making of the Modern World
is a fabulous book. I was so enlightened and excited when I read it a few years ago, I made
this short film
as a tribute.
Now I'm into his book
The Mongol Queens
which is all about the wives, daughters, and granddaughters of Ghenghis. It is such an incredible book! The detail with which he is able to describe that way of life makes me feel like I'm sitting inside a
ger
next to these incredible women, perhaps catching a buzz from drinking a bit too much fermented mare's milk, telling stories, sending prayers up to the gold light of the Eternal Blue Sky.
Mr. Weatherford's books, in fact, remind me of the great blogs
Monkeys on the Roof
and
Ngorobob Hill House,
both written by women who live in Africa, whose lives are as different from mine as can be imagined and yet with whom I have much in common in terms of how we think.
The Mongol Queens
is taking me around the world and backwards in time to 1300 and making me feel like I know these people, I know that life and that time period. It is so cool! If I make a little video about it, I think
Respect
, sung of course by Aretha Franklin, would be the proper musical background.
This dilettante says two thumbs up. Fabulous book. Oh yeah.