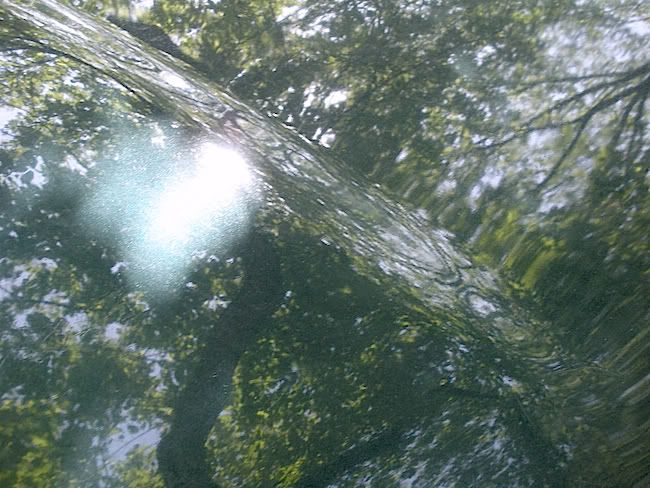 Tree canopy and sunlight reflected from the hood of a black car.
Brother Sun has moved into the sign of Taurus, the roses are in bloom and the upwards moving springtime energy has opened, too. Instead of that geyser-like sense of fast rising life force, the energy now feels like it rises, then spirals outwards, expands in a voluptuous, "full-figured" way. (I've always loved that euphemism for big boobs.)
My schedule of stuff to do has likewise expanded, as if to dance in shamanic alignment with the roses. I'm working hard all weekend, a very good thing. What I'm most looking forward to is teaching a Reiki class at Capitol Hill Yoga tomorrow.
I've been thinking Reiki, feeling Reiki, dreaming Reiki. Last night I dreamed that
Dr. Usui, the man who "discovered" Reiki,
was having coffee with me.
When I realize it's him, I start laughing.

Me: "Are you kidding me? What are you doing here?"
Dr. Usui: "I get around!"
Me: "Apparently!"
Dr. Usui: "Don't rush through class, OK? It's not a race. Let the students talk a lot about their experience. Keep asking if they have anything else to say."
Me: "Good advice. Thanks."

We do the knuckle to knuckle gesture, after which I wake up.
... I wonder if there's a name for touching fists? It's the contemporary version of a "High Five." I googled "touch fists" but could not find a name for the gesture. One of the sites that came up explained it this way:
its a gesture of:
HELLLL YEAAAA
IM DOWN FOR ANYTHING
GOT YOUR BACK
IMA KICK YOUR ASSSSS
etc.
I never knew Dr. Usui was so cool! But the dream makes me think Reiki class is going to be a lot of fun. Happy weekend, y'all! (touch fists) Oh yeah.