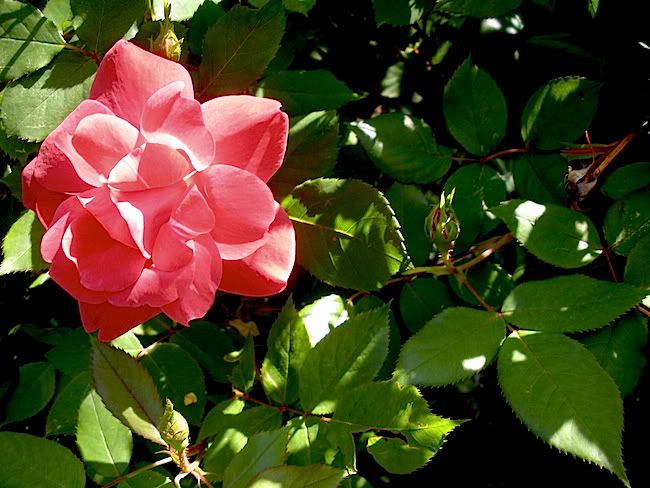 Roses blooming in April? Oh yeah. All over the Hill. This is VERY early for roses here. Wow.
I've been busy. This is a good thing, it is. I love teaching, so that's good, and working a lot (excellent for my poor bank account). I've attended more than the usual amount of social gatherings, experienced unexpected intersects with people I haven't seen in awhile, and I'm working on a couple of projects, PLUS I'm reading a great book I don't want to put down.
It's all a bit much. Many people I know live like this all the time. How in the world do they do it?
Just this morning I am realizing how much I value my ordinarily spacious life. Almost always, my life has lots of wiggle room between scheduled events. To paraphrase my beloved Gertrude Stein, it takes a lot of time to live the way I like to live - and I am NO genius, believe me. The contemplative life requires a lot of sitting around doing nothing, really doing nothing.
I feel out of it - out of touch with my blogfellows, out of touch with the landscape (since I've been rushing from one destination to the next, not stopping to take pictures or think or notice). My room looks as if a small bomb has exploded recently. Stacks of Reiki handouts, clothes, books, coffee cups and partially read New Yorkers are everywhere.
After today I'll have a little bit more time for my usual pursuits. I've been having a lot of fun with all the busyness of late, but enough is enough! Whew.